When to find the cheapest flights to Cannes
Sorry! We haven't found any flights to Cannes. Try launching another search above.
Cannes: festivals, beaches and markets
| | |
| --- | --- |
| | Cannes city centre |
| | Cannes-Mandelieu Airport (CEQ): 3 mi from city centre |
Flights to Cannes: practical information
Cheap airlines to Cannes
Cannes is beckoning, are you ready to go? The easiest way to reach Cannes is with cheap flights to Cote d'Azur International Airport (NCE) in nearby Nice. Cannes doesn't have its own airport. From London you can find low cost deals onboard easyJet, Monarch, Jet2, among others to Nice. From Nice Airport it's just a short shuttle ride to arrive in Cannes.
When to book flights to Cannes
Summer is high season for holidays in Cannes. If you're booking flights to Cannes in August, it's essential to pre-book your airport shuttle from Nice to Cannes. For a cheaper trip, why not visit in October? Flights to Cannes should be booked at least 90 days in advance.
Peak season: Summer, but especially August. May when the Cannes Film Festival takes place.
Low season: Winter is quiet but also very pleasant!
Flight duration
Direct flights to Cannes take 2 hours from London.
Experience Cannes: what to see, what to do
Cannes went from humble fishing village to one of the most posh and glamorous seaside towns in France. It hosts one of the most prestigious film festivals in the world and is the place to spend a social summer season if you like to hang amongst stars, royalty and millionaires.
Essentials in Cannes
Marche Forville: Cannes' covered market is a must if you're visiting this corner of France. Food, as you know, is one of the most impotent parts of French culture. Here you can taste and sample your way through, the variety will impress! You'll find the market on the western side of Rue Meynardiers.
Palais des Festivals: Venture down La Croisette to the famous Palais des Festivals where the rich and famous gather to watch the films during the festival. Don't miss the chance to pose at the bottom of the 22 steps leading up to it.
Beaches: Most of the beaches in Cannes are private and can cost up to €30 per day for entry. The city's public beaches are usually crowded so sometimes it's best to use your Cannes car hire to venture further outside the city for more space and prettier beaches.
Find more information on Cannes Tourism.
Accommodations in Cannes
Cannes has plenty of hotels to choose from but in the summer season it can be very difficult to find a hotel in Cannes at the last minute. Always book your rooms as far in advance as possible and remember, Cannes is a small city that is easily walkable. Hotels further away from the coast will be cheaper and sometimes just a 10 minute walk away from the beach.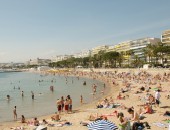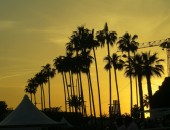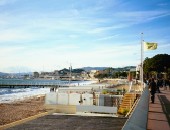 All flight tickets to Cannes (France)
Sorry! We haven't found any flights to Cannes. Try launching another search above.