When to find the cheapest flights to Charlotte
Sorry! We haven't found any flights to Charlotte. Try launching another search above.
Choose your departure month
Charlotte's Got a Lot
Distance from Charlotte city centre
6 mi
10 mi
Flights to Charlotte: practical information
Cheap airlines to Charlotte
Heading to the beautiful city of Charlotte? North Carolina is calling! Start planning your holiday in Charlotte with cheap flights to Charlotte Douglas International Airport (CLT) onboard any of the dozens of airlines that fly there: US Airways, Lufthansa, Air Canada, United Airlines, among others.
When to book flights to Charlotte
Summers in Charlotte are pleasantly warm, a great time to book your flights to Charlotte. Winters are more rainy than snowy but when it does snow, the city quickly becomes a mess with most flights delayed or cancelled.
Peak season: Summer is the best time to visit.
Low season: Winter, as it's generally rainy.
Flight duration
Direct flights to Charlotte take around 9 hours from London.
Experience Charlotte: what to see, what to do
Charlotte is an ambitious and very fast-growing city with plenty on offer. The museums and main attractions are located Uptown while all that is chic and trendy is in NoDa, short for North Davidson Street. Getting around is plenty easy with a Charlotte car hire.
Essentials in Charlotte
Fourth Ward Park: If you're in Uptown and are looking for a green spot to enjoy a picnic, this is the place. While relatively small for a city park, it's definitely one of the city's most attractive parks.
Bank of America: The Charlotte skyline is dominated by this tower, designed by Caesar Pelli. Inside the lobby is an amazing and impressive fresco by local artist Ben Long. Hop in if you're passing to take a look.
Art in NoDa: NoDa is the city's artistic centre with plenty of galleries to visit. Not to miss: Centre of the Earth Gallery, Green Rice Designs & Studio, Hart Witzen Gallery and the ArtHouse.
Find more information on Charlotte Tourism Board.
Accommodation in Charlotte
If you are not going to hire a car in Charlotte, book a hotel in Uptown Charlotte to be within walking distance of all the major sights. Most all major hotels are located either near the airport, Uptown or in the city's University area. As with any city, if there's a major sporting event or trade show taking place, it's essential to book your hotel room in advance.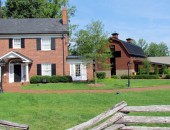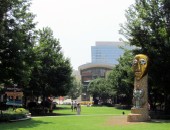 All flight tickets to Charlotte (USA)
Sorry! We haven't found any flights to Charlotte. Try launching another search above.