When to find the cheapest flights to Izmir
Sorry! We haven't found any flights to Izmir. Try launching another search above.
Choose your departure month
Izmir guide: how to get there, what to see
Distance from Izmir city centre
9 mi
10 mi
Flights to Izmir: practical information
Cheap airlines to Izmir
A flight to Izmir is your ticket to the beautiful Aegean coast. Search for flights to Izmir via Adnan Menderes Airport (ADB), which welcomes flights from Istanbul, Ankara and many European cities. Turkish Airlines offers cheap flights to Izmir, as does germanwings.
When to book flights to Izmir
Summers in Izmir are hot, very hot and in winter temperatures can drop to freezing but it is very rare to see snow. The best time to visit is late-spring and late-summer so book your flights 4-5 months in advance.
Peak season: Summer, despite the heat.
Low season: Winters.
Flight duration
Direct flights to Izmir take 3 hours 45 minutes from London.
Experience Izmir: what to see, what to do
Izmir was burned to the ground in the 1920s so very few historic sights remain but you're here on holidays in Izmir for the beaches anyways so get your suit and towel and let's go!
Essentials in Izmir
Beaches: Izmir trumps when it comes to beaches on the Aegean Coast. There are a lot of beaches but the best ones aren't near the city. It's totally worth getting an Izmir car hire to explore the more secluded ones like Foça, Dikili and Çeşme.
Alsancak: This area of Izmir is easy to get lost in. The small streets are lined with bars in old Ottoman houses and is the best place to try some traditional Turkish tea called Çay and water pipe tobacco.
Kordon: One of the most memorable experiences while visiting Izmir is walking along the Kordon, the city's waterfront promenade lined with palm trees. You can even take a horse-drawn carriage ride here.
Find more information on Izmir Tourism.
Accommodations in Izmir
Most of the hotels in Izmir are located right by the coast and near the beaches but you'll also find a lot near the train station. You'll find luxury chain choices like the Hilton and the Crowne Plaza but also a fine selection of budget choices as well.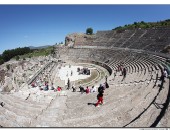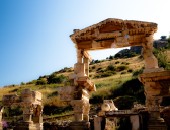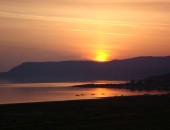 All flight tickets to Izmir (Turkey)
Sorry! We haven't found any flights to Izmir. Try launching another search above.