When to find the cheapest flights to Seattle
Sorry! We haven't found any flights to Seattle. Try launching another search above.
Seattle guide: how to get there, what to see
Distance from Seattle city centre
2 mi
11 mi
Flights to Seattle: practical information
Cheap airlines to Seattle
Planning a holiday in Seattle? We don't blame you for have "The Emerald City" on your travel list. Search for cheap flights to Seattle-Tacoma International Airport (SEA) and take off onboard US Airways, United Airlines, Condor, among others.
When to book flights to Seattle
The weather in Seattle isn't unlike England. It can be drizzly year-round but also sunny in January. The best time to visit is mid-June through to September with most days sunny and warm.
Peak season: Summers, June-September.
Low season: December often brings torrential rains.
Flight duration
Flights to Seattle take at least 15 hours with stopovers from London.
Experience Seattle: what to see, what to do
Seattle is a huge city and not easily explored in just one trip. It's lush and green with mountains in seemingly all directions. It's home to some business giants (Starbucks, Amazon.com…) and boasts an exciting arts scene too.
Essentials in Seattle
Downtown: This is where it all goes down in Seattle. Start your trip off at the waterfront and take in the views. The Pike Place Market is a must. It's the oldest running farmer's market in the USA. Stop in at the original Starbuck Coffee shop while you're there.
Space Needle: Every visitor should take a ride up the needle on a clear day. It's the city's most iconic landmark and offers some spectacular views of the city and surroundings from the top.
Art: Seattle has a number of great museums but if you only visit a handful, start at the Seattle Art Museum. It has a collection from around the world, including some local art as well. The Seattle Asian Art Museum also impresses.
Find more information on Visit Seattle.
Accommodations in Seattle
Seattle is huge and so also is the choice of accommodations while you're there. Finding a hotel in Seattle largely depends on which district of the city you'll be visiting. Most visitors stay in the Downtown area but you'll find cheaper hotels if you venture further out.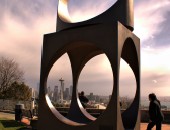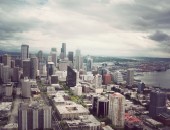 Seattle in the Traveller's Magazine
Travel Inspiration
What do you get when a ton of travel bloggers get together and talk about their hometowns? A long list of insider tips on what to see and do! These are must-see places, recommended by locals.
Travel Inspiration
St. Patrick's Day comes but once a year and on that day, no matter where you are, you're Irish! These destinations around the world are famous for their St. Paddy's Day extravaganzas, where will you be enjoying your Irish stout today?
Travel Inspiration
When we embark on a backpacking trip, taking only what we need for weeks or months, we are really doing no different than some of the world's earliest explorers. Discovering cultures, new lands, languages and meeting new people, essentially "travelling" has been done for centuries upon centuries. But who started it all? Whether it's through … Continued
All flight tickets to Seattle (USA)
Sorry! We haven't found any flights to Seattle. Try launching another search above.