When to find the cheapest flights to Hanover
Sorry! We haven't found any flights to Hanover. Try launching another search above.
Hanover: gear up for a trip to EXPO city
| | |
| --- | --- |
| | Hanover city centre |
| | Hannover Airport (HAJ): 7 mi from city centre |
Flights to Hanover: practical information
Cheap airlines to Hanover
Planning a trip to Hanover? Start with cheap flights to Hanover Airport (HAJ) onboard Brussels Airlines from Manchester and germanwings from London Stansted. Low cost airlines are certainly the cheaper way to reach this historic city in central Germany. British Airways also flights from London to Hanover.
When to book flights to Hanover
Hanover is the "EXPO City" having hosted many of the biggest exhibitions in the world. Given that, it's best to book your flights well in advance if you're travelling for an exhibition and during the summertime when the city is at its busiest.
Peak season: Summer, during important exhibitions.
Low season: Winter is a generally unpopular time to plan holidays in Hanover.
Flight duration
Direct flights to Hanover take 1 hours 35 minutes from London.
Experience Hanover: what to see, what to do
Hanover was hit the hardest during the Second World War meaning that there are only a handful of historic buildings left in the city. You'll see mostly 1950's style architecture and some Art Nouveau decorations. More positively, Hanover has some spectacular parks, gardens and forests to explore.
Essentials in Hanover
Kröpcke: This is the heart of Hanover. This pedestrian-friendly part of town is the best place to shop, it's where the Opera House is located and has some of the best restaurants in the city. Lose sight of your friends while exploring? Meet at the big green clock, the city's most central spot.
Great Garden of Herrenhausen: On a sunny day, a visit to this great baroque garden is a must. It was the German's reaction to the Garden of Versailles in the 17th century and is a must-see while in Hanover.
Marienburg Castle: If you have a Hanover car hire, take a trip 20km to the south and you'll find yourself at this castle, one of the most important neo-Gothic ones in Germany. The grand halls and ornate rooms will take you back to the grand days of the Hanoverian Court.
Find more information on Hanover.de.
Accommodations in Hanover
As Hanover frequently hosts large and popular exhibitions, it's best to book your hotels in Hanover as far in advance as possible. Hotels easily fill up or their room rates soar during these weeks due to demand. There is certainly enough choice between budget, mid-range and more luxurious hotels.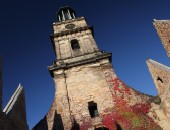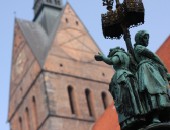 All flight tickets to Hanover (Germany)
Sorry! We haven't found any flights to Hanover. Try launching another search above.