When to find the cheapest flights to Indianapolis
Sorry! We haven't found any flights to Indianapolis. Try launching another search above.
Indianapolis: home of The Speedway
Distance from Indianapolis city centre
8 mi
8 mi
Flights to Indianapolis: practical information
Cheap airlines to Indianapolis
On your way to Indiana? Start planning your holiday in Indianapolis with cheap flights to Indianapolis International Airport (IND), located just outside the city centre. From London, fly onboard Delta Air Lines, US Airways, Virgin Atlantic, Air Canada and others.
When to book flights to Indianapolis
Indianapolis enjoys warm summers and typical mid-west winters that can get pretty cold. The summer months are the best for visiting Indianapolis, June to August with many city festivals taking place in this time. Book your flights to Indianapolis at least 6 months in advance.
Peak season: June-August.
Low season: Winter is generally quieter for tourism
Flight duration
Flights to Indianapolis take around 11 hours with a stopover from London.
Experience Indianapolis: what to see, what to do
Welcome to the "Racing Capital of the World!" Indianapolis is where you'll find the Motor Speedway where the Indy 500 and Allstate 400 take place. But this city doesn't just please racing fans! There's plenty to discover in this city, known as the Crossroads of America.
Essentials in Indianapolis
White River State Park: Located just at the edge of the downtown area, this expansive park is worth exploring. You'll find the Eiteljorg Museum of American Indians and Western Art here, a must.
Kurt Vonnegut Memorial Library: The famous American author was born and raised in Indy so it's no surprise that there's a library dedicated to him and his work. You'll find his typewriter on display there, his Pall Mall cigarettes and his Purple Heart from WWII.
The Speedway: The Motor Speedway is without a doubt the most popular sight in Indianapolis. Don't miss the Hall of Fame Museum with 75 racecars, including former winners.
Find more information on VisitIndy.com.
Accommodation in Indianapolis
There's no shortage of hotels in and around Indianapolis. There's a good selection of budget hostels and inns as well as B&Bs in the mid-range and a handful of more luxurious places like the Marriott, the Westin and Crowne Plaza.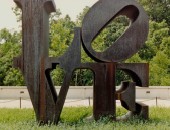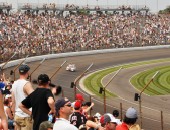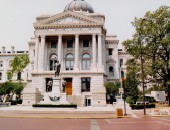 All flight tickets to Indianapolis (USA)
Sorry! We haven't found any flights to Indianapolis. Try launching another search above.