When to find the cheapest flights to San Juan
Sorry! We haven't found any flights to San Juan. Try launching another search above.
San Juan: the happiest place on earth
Distance from San Juan city centre
1 mi
7 mi
Flights to San Juan: practical information
Cheap airlines to San Juan
Planning the trip of your dreams to Puerto Rico? Start with cheap flights to San Juan, the capital. Flights touch down at Luis Muñoz Marín International Airport (SJU). From London, catch flights to San Juan onboard US Airways, US Airways, Delta Air Lines and British Airways.
When to book flights to San Juan
San Juan is a tropical city and can get very humid in the summer. Rainy season arrives in April and last until November, with the possibility of hurricanes from July to November. Winter is the best time to plan a holiday in San Juan. Book your flights at least 6 month in advance for the cheapest tickets.
Peak season: Winter, December to March.
Low season: July to November, due to hurricanes.
Flight duration
Flights to San Juan take at least 16 hours with stopovers from London.
Experience San Juan: what to see, what to do
San Juan is a historic gem on the north-eastern side of Puerto Rica with incredible architecture, Spanish military first form the 1500s, busy harbour and some incredible beaches, hotels, plazas and museums. The trouble is figuring out what to do first!
Essentials in San Juan
Beaches: San Juan has some stunning beaches in Condado and Isla Verde. Bring your beach towel and prepare for long days of sunshine and glorious waters for swimming. After a day at the beach, tuck into dinner at one of the popular restaurants along Ashford Avenue.
Old San Juan: The historic part of the city is just as popular with tourists as it is locals. Top sights not to be missed: Alcadia, Institute of Puerto Rican Culture, Casa Blanca, La Fortaleza and San Juan Church.
Hato Rey: Planning to do a bit of shopping while in San Juan? Head to Hato Rey, the city's business district to visit Plaza las Americas, the biggest shopping centre in the Caribbean. You'll find Macy's, JC Penny and Sears, among others.
Find more information on See Puerto Rico.
Accommodation in San Juan
San Juan has an incredible array of hotels and hostels, spread throughout the city. Book yourself into a colonial-style hotel in Old San Juan or a beachfront resort hotels are in Condado, Ocean Park or Isla Verde. Hotel rooms in San Juan should be booked in advance during peak season to avoid disappointment.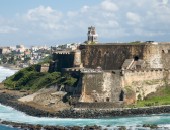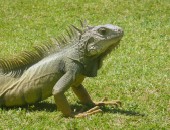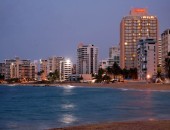 San Juan in the Traveller's Magazine
Latest news
The mayor of Puerto Rico's capital has officially banned horse-drawn carriages in San Juan, a small victory for animal activists.
Travel Inspiration
Spain welcomes the upcoming summer season next week with the annual festival of San Juan with bonfires, music, drink and dance. It is the shortest night of the year and marks the beginning of summer solstice. Join the Saint John's Day celebrations around Spain, it is an experience you will never forget. Taking place every … Continued
All flight tickets to San Juan (Puerto Rico)
Sorry! We haven't found any flights to San Juan. Try launching another search above.