When to find the cheapest flights to Abuja
Sorry! We haven't found any flights to Abuja. Try launching another search above.
Abuja: cultural coves and spiritual mountains
| | |
| --- | --- |
| | Abuja city centre |
| | Nnamdi Azikiwe International Airport (ABV): 14 mi from city centre |
Flights to Abuja: practical information
Cheap airlines to Abuja
Planning a holiday in Abuja, Nigeria's capital? Start your trip planning with cheap flights to Nnamdi Azikwe International Airport (ABV) onboard British Airways, which flights from London Heathrow, Brussels Airlines from Manchester or Egyptair, also from London.
When to book flights to Abuja
Central Nigeria, where Abuja is located is a tropical zone, separating Nigeria's southern forests for the northern savanna. For foreign travellers, most will visit in summer but most will find it more comfortable to book a holiday in Abuja for spring or autumn.
Peak season: Summer but the shoulder seasons are more pleasant.
Low season: Winter, although the weather doesn't change drastically.
Flight duration
Direct flights to Abuja take 6 hours 10 minutes from London.
Experience Abuja: what to see, what to do
Abuja is Nigeria's capital and one of the world's only purpose-built cities. The city has been built from scratch and features mostly modern Nigerian architecture. The road network is excellent if you plan to hire a car in Abuja.
Essentials in Abuja
Millennium Park: This is one of Abuja's most ambition projects which includes the Millennium Tower and a Cultural Centre which houses one of the most important collections of African Art. It is due to open in 2015.
Aso Rock: From many parts of the city you'll spot Aso Rock, rising from the ground. It's a 400m monolith. The word "Aso" means victorious in the native Asokoro language.
National Assembly: This is where the senate for the Federal Republic of Nigeria meets. The National Assembly is open to the public for tours.
Find more information on Nigeria Tourism.
Accommodation in Abuja
Abuja has a number of hotels but it is without a doubt the most expensive city in Nigeria. Decent hotels in Abuja tend to cost around £125/night but if you book your room in advance, you should be able to find a better deal.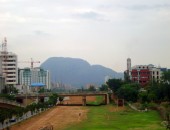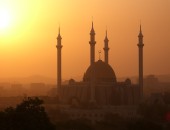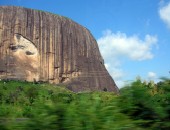 All flight tickets to Abuja (Nigeria)
Sorry! We haven't found any flights to Abuja. Try launching another search above.