Find the cheapest flights to Albania by date
outbound:
11-Aug-2022
direct (3h05m)
easyJet
return:
25-Aug-2022
1 stop (22h25m)
Air Serbia
Mini guide: Cheap flights to Albania, tourism and travel info
Flights to Albania: practical information
Cheap airlines to Albania
Is Albania calling your name? Search for cheap flights to Albania's capital city, Tirana, onboard Alitalia, British Airways, Lufthansa, Austrian Airlines and others. Tirana Mother Theresa International Airport (TIA) is the country's most popular airport for international flights. As for low cost, only Belle Air and Germanwings service Albania.
When to book flights to Albania
Albania is a hot spot in the summer, especially on the coast that faces the Adriatic and Ionian Seas. The coast enjoys some pretty magnificent Mediterranean weather while the highlands are more continental.
Peak season: Summer, especially near the coast.
Low season: Winter.
Flight duration
Direct flights to Albania take just less than 3 hours from London.
Experience Albania: what to see, what to do
The coast is a major draw for visitors on holidays in Albania. The Dajta Mountain summons hikers young and old while the castles keep history buffs occupied for days. Are you ready to discover Albania?
Essentials in Albania
Coastline: Get ready to dip into the cool clear turquoise waters of the sea. For sandy beaches, stick to the north near the border with Montenegro near Shengjin, Durres and Vlore. South of Vlore, expect more pebbly beaches, equally beautiful!
Dajti Mountain: If you're visiting Tirana, the capital, while in Albania, take a hike up this mountain. It's a popular thing to do and offers the best views of the capital.
Castles: Many of Albania's cities have castles but the most impressive ones have to be Petrela Castle near Tirana, Rozafa Castle in Shkodra and Skanderbeg Castle and Kruje.
Find more information on Albania Tourism.
Accommodations in Albania
Hotels in Albania are much cheaper than in the rest of Europe. Bigger cities and towns will have a selection of hotels, guesthouses, B&Bs and hostels to choose from. Further afield you can find traditional inns that are full board, the perfect opportunity to taste all the local specialties!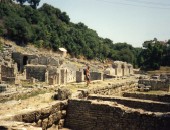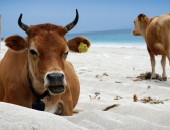 All flight tickets to Albania
Sorry! We haven't found any flights to Albania. Try launching another search above.