When to find the cheapest flights to Amman
outbound:
23-Dec-2020
2 stops (31h50m)
Lufthansa
return:
08-Jan-2021
2 stops (15h55m)
Austrian Airlines
Choose your departure month
Amman: gateway to exploring Jordan
Distance from Amman city centre
3 mi
16 mi
Flights to Amman: practical information
Cheap airlines to Amman
Amman is Jordan's largest city and the perfect base for exploring the country. Fancy a trip? Search for cheap flights to Queen Alia International Airport (AMM) in Jordan onboard British Airways from London and Manchester and easyJet from London Gatwick. Emirates, Alitalia and Royal Jordanian also operate flights to Amman from London.
When to book flights to Amman
Planning a holiday in Amman? There's no better time to visit than fall and spring when the days are warm but not desert-hot. Rain is heaviest in January and February to best to book your flights to Amman for March or November.
Peak season: Spring (March/April) and fall (October/November).
Low season: Summer and winter when it's rainy.
Flight duration
Direct flights to Amman take 5 hours 30 minutes from London.
Experience Amman: what to see, what to do
Amman is the perfect stepping off point for any trip in Jordan. It even has a few sights in and around town that are definitely worth checking out. From the Roman amphitheatre to massive and modern shopping malls, a historic old town and even a day trip to the Dead Sea.
Essentials in Amman
Citadel: The Amman Citadel sits right on the border of ancient and modern Amman and is home to several Roman ruins, the Temple of Herakles, a 5th century Byzantine Church and the Ummayad Palace with great views of the city.
Balad: Amman's old town is being totally rejuvenated and is more pedestrian friendly than ever before. In Balad you'll come across souks, traditional shops, plenty of street vendors, tea shops and more.
Dead Sea: If you hire a car in Amman, why not take a trip to the Dead Sea? On the way you'll pass Mount Nebo and the Jordan River, where Jesus was baptised, are on the way. There are swimming pools and showers at the Dead Sea Amman City Resort.
Find more information on Visit Jordan.
Accommodations in Amman
You'll find it all in Amman from basic and cheap 1* hotels to luxurious hotels fit for heads of states, kings and queens. Many hotels are located in the city centre and if you travel in summer or the warmer months, it worth paying extra for a hotel in Amman with air conditioning.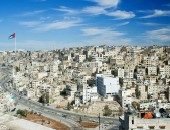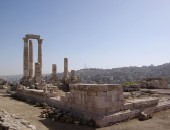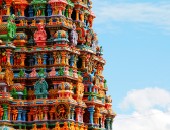 All flight tickets to Amman (Jordan)
Sorry! We haven't found any flights to Amman. Try launching another search above.