When to find the cheapest flights to Amritsar
outbound:
13-Jul-2020
1 stop (32h30m)
Emirates
return:
31-Jul-2020
2 stops (22h20m)
Air India
Amritsar guide: how to get there, what to see
| | |
| --- | --- |
| | Amritsar city centre |
| | Amritsar (ATQ): 7 mi from city centre |
Flights to Amritsar: practical information
Cheap airlines to Amritsar
Your Indian adventure is waiting! Will you start with holidays in Amritsar? Home to the Golden Temple, flights to Amritsar are not to be missed! Catch flights to Ari Guru Ram Das Jee International Airport (ATQ). The airport welcomes flights from London onboard BMI, Jet and Air India.
When to book flights to Amritsar
Amritsar is best enjoyed in spring, before the summer heat arrives. February and March are probably the best months to visit out of the year. Monsoon hits in August with a lot of rain also falling in autumn. The cheapest flights are found 4-6 months in advance.
Peak season: Late spring, early summer.
Low season: Winters, monsoon season.
Flight duration
Flights to Amritsar take at least 16 hours with one stopover.
Experience Amritsar: what to see, what to do
Amritsar is most famous for its Golden Temple, a place of pilgrimage. The city is also home to a number of other temples, palaces and parks that are worth a visit while on holidays in Amritsar.
Essentials in Amritsar
Golden Temple: This is the most important place of worship for Sikhs and is always full of pilgrims from every corner of India. To visit, make sure you cover your head, remove your shoes and find a guide. The temple is open practically 24 hours a day and is especially pretty at night.
Central Sikh Museum: Want to learn more about Sikh religion and customs? Stop off at the museum near the temple. There is a large gallery of paintings and also has a collection of items from famous gurus. It's free to visit.
Mata Temple: It is common for Hindu women to worship here if they wish to become pregnant. It's a labyrinth inside, with low tunnels, caves full of water, stone walkways… it's an impressive place to visit.
Find more information on Punjab Tourism.
Accommodations in Amritsar
Searching for a hotel in Amritsar? You'll find a number of cheap and clean guesthouse rooms in the city centre as well as some near the Golden Temple. Expect to pay a premium for rooms with views of the temple however. During religious holidays, best to find a room further away from the temple and far in advance.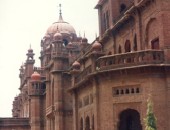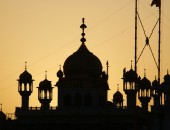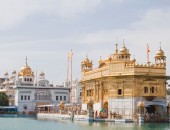 All flight tickets to Amritsar (India)
Sorry! We haven't found any flights to Amritsar. Try launching another search above.