When to find the cheapest flights to Angouleme
Sorry! We haven't found any flights to Angouleme. Try launching another search above.
Angouleme: Romanesque treats, murals and hills
Distance from Angouleme city centre
6 mi
23 mi
Flights to Angouleme: practical information
Cheap airlines to Angouleme
There's more to France than just the usual Paris, Nice and Bordeaux. If you're looking for another pocket of French culture to explore, then a holiday in Angouleme is jus the thing. Catch cheap flights to Angouleme Airport (ANG) onboard Ryanair from London Stansted Airport.
When to book flights to Angouleme
Summer is without a doubt the most popular time to plan a trip to Angouleme. But the region is right in wine country so autumn is also popular when the grape harvest is brought in from the fields. Book your flights to Angouleme at least three months in advance for the cheapest fares.
Peak season: Summer, June to September.
Low season: Winters are slow for tourism but offer great discounts for budget travellers.
Flight duration
Direct flights to Angouleme take 1 hour 40 minutes.
Experience Angouleme: what to see, what to do
Angouleme isn't a big city but it's the perfect spot to discover the beauty of the French culture. The town's cathedral, the old fortified city, the town's tumultuous history… Angouleme's historical importance makes it a must-see in the Charente department.
Essentials in Angouleme
City Remparts: The old town walls you can see around Angouleme today are built in the same places where the city's original ancient fortifications stood. From the tops you can see in pretty much every direction.
Angouleme Cathedral: The church is dedicated to Saint Peter and is built in a gorgeous Romanesque style in the 11th and 12th century.
Murals: One unique feature of this city are the walls, rather the unused walls that go unnoticed in countless other cities. Angouleme has commissioned its artists to paint the walls with colourful and decorative murals. Any city tour will highlight the best ones.
Find more information on Angouleme Tourism.
Accommodation in Angouleme
The city of Angouleme is a fair size and has a good offering of hotels. In the summer months when tourism is at its peak it can be difficult to find a hotel room in Angouleme at short notice. Book your stay early to avoid disappointment.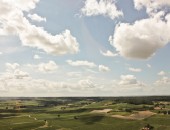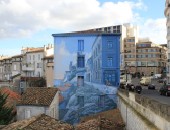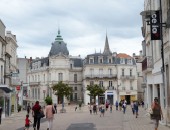 All flight tickets to Angouleme (France)
Sorry! We haven't found any flights to Angouleme. Try launching another search above.