When to find the cheapest flights to Antwerp
Sorry! We haven't found any flights to Antwerp. Try launching another search above.
Choose your departure month
Antwerp: Belgium's diamond city
| | |
| --- | --- |
| | Antwerp city centre |
| | Antwerpen-Deurne International Airport (ANR): 4 mi from city centre |
Flights to Antwerp: practical information
Cheap airlines to Antwerp
Planning a holiday to Antwerp, the Diamond City? There's more to love about this city than just the diamonds passing through the hands of its merchants! Plan your trip with cheap flights to Antwerp Airport (ANR) onboard CityJet, Air France and KLM. Alternatively arrive on flights to Amsterdam or Brussels.
When to book flights to Antwerp
Antwerp is a treat to visit and explore just about any time of the year. The weather is certainly favourable in summer but Christmas is charming when the market opens. For the cheapest flights to Antwerp, book your tickets at least 3 months in advance.
Peak season: Summer and Christmas/New Year's.
Low season: Winter and fall.
Flight duration
Direct flights to Antwerp take 1 hour from London.
Experience Antwerp: what to see, what to do
Antwerp has been one of the most important financial centres in the world during history and the result is a city full of international influence, museums, stunning architecture and a centre of Flemish style, artists and writers. This dynamic city will sweep you off your feet!
Essentials in Antwerp
Rubens House: The home of painter Peter Paull Rubens is a museum and a must-see while visiting Antwerp. There is a free audio guide available, just remember to bring a set of headphones to plug into it.
Diamond District: 70% of the world's diamonds are traded in Antwerp and this is where it all takes place. There area is studded with jewellery shops. 50% of the diamond industry is run by Jews so the area also has a strong cultural feel to it.
Market Square: The city's main square is bordered by the most charming and typical Flemish guild houses. The City Hall is a mix of Gothic and early Renaissance architecture and is a style you won't find anywhere else in Europe.
Find more information on Visit Antwerp.
Accommodations in Antwerp
Antwerp is a popular tourist destination so visitors won't be in lack when it comes to hotel accommodations. In the summer and during December it's important to book your hotels in Antwerp as far in advance as possible to avoid disappointment. You'll find it all here from youth hostels to boutique B&Bs, 4* hotels and self-catering apartments in the mid-range.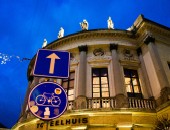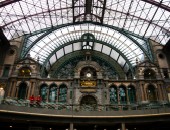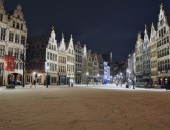 Antwerp in the Traveller's Magazine
Travel Inspiration
Museums come in all shapes and sizes but there's no argument that some are more beautiful than others. Architects put on their best display when designing national museums, monuments. Here are our top picks.
All flight tickets to Antwerp (Belgium)
Sorry! We haven't found any flights to Antwerp. Try launching another search above.