When to find the cheapest flights to Avignon
outbound:
05-Dec-2020
1 stop (9h02m)
Air France
return:
07-Dec-2020
1 stop (6h57m)
Air France
Avignon: Papal home away from home
| | |
| --- | --- |
| | Avignon city centre |
| | Avignon-Provence Airport (AVN): 6 mi from city centre |
Flights to Avignon: practical information
Cheap airlines to Avignon
Is Provence in your travel cards this year? Search for cheap flights to Avignon Airport (AVN) for your French holiday. From London take-off onboard CityJet from the super-convenient London City Airport. From Edinburgh, Flybe is a great choice for your holidays in Avignon.
When to book flights to Avignon
Avignon is a popular choice in summer when the fields of lavender are in bloom and ready to be harvested. It's always best to book your flights to Avignon at least 3 months in advance and if your'e travelling in summer, even further.
Peak season: Summer, especially late July and August.
Low season: Winter from December to February.
Flight duration
Direct flights to Avignon take just under 2 hours.
Experience Avignon: what to see, what to do
Avignon is famous for its papal history. It was here that the Popes fled to when leaving Rome in the 14th century. They left their mark with the gorgeous Palace of the Popes and some incredible gothic architecture around the city. There is so much to explore in Avignon, are you ready?
Essentials in Avignon
Palais des Papes: This is the largest Gothic building in the world and a must while visiting Avignon. The old frescoes are the main attraction. Just the size of the place will amaze.
Pont d'Avignon: The bridge near the palace was built in the Middle Ages, although nothing remains of it today except a fabulous story and a small chapel and four of its original 22 arches.
Rhone River: There are few things more relaxing than a river cruise down the lazy Rhone. In the summer, board your boat as the sun is setting. The banks of the Rhone are gorgeous and will give you a whole new perspective of Avignon.
Find more information on Avignon Tourism.
Accommodations in Avignon
Avignon is a popular stop when visiting Provence. The city is well-equipped with hotels and hostels for every type of traveller. Price vary dramatically by season so if you're visiting in summer, always book your hotel in Avignon as far in advance as possible.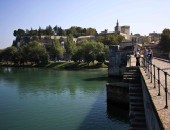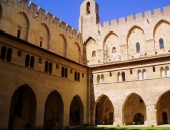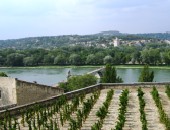 Avignon in the Traveller's Magazine
Travel News
Britain's leading low cost airline Flybe announces that 16 more routes will be added to their network in time for the 2010 summer travel season. Currently the airline services almost 3800 flights a week during the summertime to main airports in the UK as well as Europe. Now it will be even more! Some of … Continued
All flight tickets to Avignon (France)
Sorry! We haven't found any flights to Avignon. Try launching another search above.