When to find the cheapest flights to Basel
outbound:
01-Oct-2020
direct (1h40m)
easyJet
return:
04-Oct-2020
direct (1h30m)
easyJet
Choose your departure month
Basel guide: how to get there, what to see
Distance from Basel city centre
2 mi
2 mi
3 mi
Flights to Basel: practical information
Cheap airlines to Basel
Basel is underrated by so many visitors in Switzerland but it's a mystery why! Catch cheap flights to Basel onboard easyJet from London Gatwick. If you've got a bit more to spend, fly to Basel with Swiss or British Airways, even KLM and Lufthansa fly to Basel-Mulhouse-Freiburg Airport ((BSL).
When to book flights to Basel
Basel is popular in summer as a city break, in winter as a base for ski holidays and even more popular during Farsnacht, or carnival. If you're visiting during peak ski season, summer or carnival time, you'd be best to book your flights 3-4 months in advance.
Peak season: Fasnacht, ski season and summer.
Low season: Spring and fall.
Flight duration
Direct flights to Basel take 1 hours 30 minutes from London.
Experience Basel: what to see, what to do
From the city's medieval town centre to its world class art museums, the contemporary and historic architecture and an annual carnival party that rivals Rio and Venice… what's not to love about Basel?
Essentials in Basel
Old Town: Start your holidays in Basel in the Old Town at the Münster and then head to the Pfalz overlooking the Rhine. This is the perfect place to enjoy a picnic. Market square is your place to get fresh cheeses, bread and fruits, especially on Saturdays when the square is buzzing.
Kunstmuseum Basel: If you visit just one museum in Basel, make it this one. The permanent collection spans 19th and 20th century art including an entire room of Picasso's work.
Rhine River: In summer you can spend all day wanting along the banks of the Rhine. There is a 2 mile promenade on the Kleinbasel bank, even take a swim if you like!
Find more information on Visit Basel.
Accommodations in Basel
If you're visiting Basel during the carnival, BaselWorld or during Art | Basel then you'd better book your hotel rooms in Basel well in advance. Hotels fill up quickly during these events.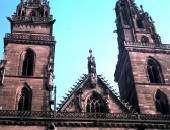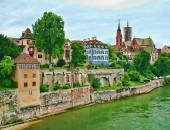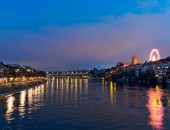 All flight tickets to Basel (Switzerland)
Sorry! We haven't found any flights to Basel. Try launching another search above.