When to find the cheapest flights to Beijing
Sorry! We haven't found any flights to Beijing. Try launching another search above.
Beijing guide: how to get there, what to see
Distance from Beijing city centre
9 mi
15 mi
Flights to Beijing: practical information
Cheap airlines to Beijing
Beijing is regarded as being home to many of the world's most beautiful attractions. Isn't it time you planned a holiday in Beijing? Beijing Capital International Airport (PEK) is 26km from the city and welcomes flights from most all major international airlines like KLM, British Airways and China Southern Airlines. Low cost airlines serving domestic routes will land at Nanyuan Airport (NAY).
When to book flights to Beijing
First thing's first. Check the weather before making any plans to book flights to Beijing. Monsoon season can ruin a holiday. Summers are hot and humid while winter is cold and dry. The best months to visit are September and October, also known locally as the Golden Autumn.
Peak season: Fall, September and October.
Low season: Summers and winters.
Flight duration
Flights to Beijing take at least 12 hours with one stopover from London.
Experience Beijing: what to see, what to do
It is possible there's never been a better time to visit Beijing than now. Many tourist attractions were upgraded for the 2008 Olympics.
Essentials in Beijing
Forbidden City: The Forbidden City is often the first stop for many who visit Beijing. The 9,999 rooms of the palace overlook Tiananmen Square. Nearby are a number of remnants from the medieval city, especially in the Ming Dynasty City Wall Site Park. Also check out the Drum and Bell Towers in the Dongcheng District.
Great Wall: China's Great Wall is just a short journey away with a Beijing car hire. Set out early if you want to beat the mid-day crowds on the wall or venture further along to less popular sections of it.
Tourist trail: If it's your first time visiting the city, follow the tourist trail and visit places like the Summer Palace, Chairman Mao Mausoleum, Beihai Park, 798 Space, Great Bell Temple, The Underground City, Beijing Aquarium and the Beijing National Stadium.
Find more information on Visit Beijing.
Accommodations in Beijing
There is a lot on offer when it comes to hotels in Beijing. Foreigners will find it easiest to stay at Western-style hotels and hostels, many of which are located in the Dongcheng District and the Xuanwu District. Always book your accommodation before you arrival and well in advance for the best deals.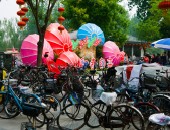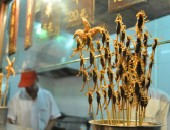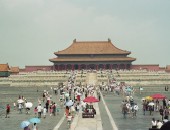 Beijing in the Traveller's Magazine
Featured
Combat your winter blues withe some globe trotting action. We share our favourite destinations to visit in February.
Latest news
Beijing has won its bid to host the 2022 Winter Olympics, becoming the first city in the world to host both the summer and winter games.
Latest news
A life-sized replica of Beijing's Old Summer Palace has opened, hundreds of miles away, to reviews good and bad.
All flight tickets to Beijing (China)
Sorry! We haven't found any flights to Beijing. Try launching another search above.