When to find the cheapest flights to Belfast
outbound:
17-Aug-2022
direct (1h20m)
easyJet
return:
21-Aug-2022
direct (1h10m)
easyJet
Choose your departure month
Belfast guide: how to get there, what to see
Distance from Belfast city centre
3 mi
12 mi
Flights to Belfast: practical information
Cheap airlines to Belfast
Aer Lingus, EasyJet and BMIBaby offer cheap flights to Belfast from England. The city however has two airports, George Best Belfast City Airport (BHD) for domestic flights and Belfast International Airport (BFS) which is further away from the city but welcomes cheap flights to Belfast from international destinations.
When to book cheap flights to Belfast
Belfast is a great city-break and a popular one at that. With excellent summer festivals and mild winters, there's no "bad" time to visit the capital of Northern Ireland and enjoy holidays in Belfast.
Peak season: Summer (especially July and August).
Low season: Hotels and flights are generally cheaper from October to March.
Flight duration
Direct flights to Belfast take 1h 20min from London.
Experience Belfast: what to do, what to see
As the capital of Northern Ireland, Belfast has a lot to say for itself. Old run-down shipyards have been turned into a bustling waterfront soaked in history. Victorian architecture has been renewed and restored, giving Belfast the glitz and glamour it had a hundred years ago.
Essentials in Belfast
Belfast Castle: This iconic city attraction, which is free to enter, is more of a stately mansion than a castle, built in 1870. From the hill, there are great views of the city.
Titanic Town: Belfast's historic shipyards are famous for one vessel, the unsinkable HMS Titanic, or at least that's what they thought when they were building it. The area along the River Lagan has been totally renewed, thanks to 1 billion Euro, and is known as the Titanic Quarter.
Political murals: For a glance at the political uprisings that made Belfast famous (for the worst reasons), head to Falls Road and Shankhill Road in West Belfast, mainly along the Golden Mile. Either walk or cruise by in your Belfast car hire.
Crown Liquor Saloon: This refurbished bar will take you back to 1885 when it was a famous Victorian gin palace and one of Northern Ireland's best-known drinking holes.
Find more information on gotobelfast.com.
Accommodations in Belfast
Belfast offers a wide range of hotel options like any other European capital. With plenty of cosy B&Bs in the outskirts, the city's guesthouses are known for their attention to detail and personalised service, a great option when choosing hotels in Belfast.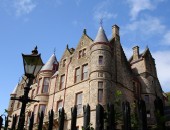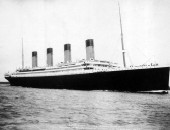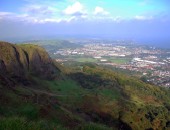 Belfast in the Traveller's Magazine
Latest news
Europe's Leading Tourist Attraction has been announced by the World Travel Awards, and the winner is in the UK!
Travel Inspiration
Want to dive head-first into wild and rural Ireland? The scenic route along the eastern coast of Northern Ireland will take you from Belfast to Giant's Causeway, passing by the Antrim valleys on the way… a trip that takes your breath away! Touch down in Dublin and hire a car from the airport or catch … Continued
All flight tickets to Belfast (United Kingdom)
Sorry! We haven't found any flights to Belfast. Try launching another search above.
outbound:
01-Jul-2022
1 stop (6h)
easyJet
return:
03-Jul-2022
direct (1h35m)
easyJet