When to find the cheapest flights to Bergamo
outbound:
14-Jun-2021
direct (1h50m)
Ryanair
return:
17-Jun-2021
direct (2h)
Ryanair
outbound:
14-Jun-2021
direct (1h50m)
Ryanair
return:
17-Jun-2021
direct (2h)
Ryanair
Choose your departure month
Bergamo: a rare city of artistic treasures
Distance from Bergamo city centre
2 mi
37 mi
Flights to Bergamo: practical information
Cheap airlines to Bergamo
Bergamo is right in the Alps and a city with astonishing beauty and heritage. Start your holiday in Bergamo with cheap flights to Orio al Serio International Airport (BGY), just outside the city centre. Ryanair is the cheapest airline flying to Bergamo, departing from Manchester and London Stansted.
When to book flights to Bergamo
Bergamo is one of those cities you can visit year-round. With the Alps right there, it's a great base for a ski holiday while in summer, the city is alive with arts festivals and medieval charm. Book your flights to Bergamo at least three months in advance.
Peak season: Summer and winter ski season.
Low season: Spring and fall are the quietest times to visit.
Flight duration
Direct flights to Bergamo take 2 hours from London.
Experience Bergamo: what to see, what to do
Bergamo isn't a large city but it's never short of tourist crowds. The city is famous for its artistic treasures and medieval streets. The lower city is modern and urban while the upper city is the more historic. Both are definitely worth exploring!
Essentials in Bergamo
Piazza Vecchia: This is the heart of Bergamo's old town, surrounding by both medieval and Renaissance architecture. Take a few moments to soak it all in, the perfect design and the white marble fountain in the centre. This is where every tour of Bergamo begins (or at least should!).
Funicolare: The best way to get from the lower city to the upper city is without a doubt the funicular. The views are spectacular and it's much easier than walking. There is another funicular to take you from the upper city to the hill of San Vigilio.
San Vigilio: This small village on the top of the hill offers some pretty remarkable views of the city and also has a ruined castle, which is free to enter. Herman Hesse described the view as "the blue distance."
Find more information on Bergamo Tourism.
Accommodations in Bergamo
There are a number of hotels in Bergamo including some charming B&Bs in the city's old town. The new town is where you'll find more international hotel brands like Mercure and Best Western. Some visitors also stay in outlying towns like Sarnico and Stezzano. No matter the time of year, it's a good idea to book your hotels in Bergamo in advance.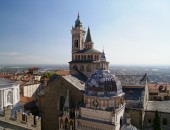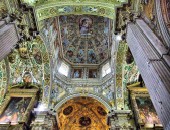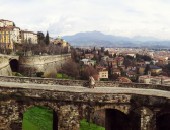 All flight tickets to Bergamo (Italy)
Sorry! We haven't found any flights to Bergamo. Try launching another search above.