When to find the cheapest flights to Bergen
Sorry! We haven't found any flights to Bergen. Try launching another search above.
Choose your departure month
Bergen: from fish markets to medieval villages
Distance from Bergen city centre
7 mi
141 mi
Flights to Bergen: practical information
Cheap airlines to Bergen
Planning a trip to Bergen? Start with cheap flights to Bergen Airport Flesland (BGO), just a stone's throw from the city. You can find cheap flights to Bergen from London, Aberdeen, Edinburgh and Newcastle onboard Norwegian Air, the country's national airline as well as British Airways and KLM.
When to book flights to Bergen
Gorgeous Bergen is a favourite spot to visit in Norway for the landscape but also the culture. Festivals in the summer attract visitors from all over the world! Being so north, expect rain year-round and in winter, snow. Book your flights to Bergen at least 3 months before you plan to travel.
Peak season: Summer and during cultural festivals.
Low season: Winter.
Flight duration
Direct flights to Bergen take 2 hours from London.
Experience Bergen: what to see, what to do
Bergen is a hub for culture in Norway as well as Europe. The Philharmonic Orchestra is one of the oldest orchestral institutions in the world but there's more to Bergen than just music and culture. Fish markets, museums, castles and not to mention the beach!
Essentials in Bergen
Fish Market: This is a historic but smelly stop on the tourist map. Bergen's outdoor fish market today is a mix of souvenirs and seafood. Don't be afraid to strike up a conversation and taste some whales and salmon caviar.
Bryggen: This part of town was used from 1350 and 1750 as a trading dock. Today the charming wooden houses give you a feel of what Bergen must have been like in Medieval times. Don't miss a meal in the restaurant, the first opened for this purpose in 1708.
Beaches: Summers in Bergen are often spent by the seaside at the coastal beaches where the water is clean and often refreshingly cold. Try the sandy beaches at Milde, Kyrkjetangen and Helleneset while on holidays in Bergen.
Find more information on Visit Bergen.
Accommodations in Bergen
Finding a cheap hotel in Bergen is generally very easy except during the summer months when rooms tend to go up in price. From May to September it's essential to have a room booking made well in advance.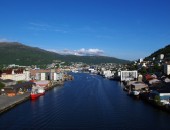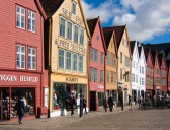 Bergen in the Traveller's Magazine
Travel Tips
For the love of food and travel, check out these European foodie destinations that are both delicious with some serious food traditions and are easy on the budget.
All flight tickets to Bergen (Norway)
Sorry! We haven't found any flights to Bergen. Try launching another search above.