When to find the cheapest flights to Biarritz
outbound:
21-May-2022
1 stop (13h55m)
Air France
return:
23-May-2022
1 stop (8h15m)
Hop!
outbound:
27-May-2022
1 stop (8h15m)
easyJet
return:
29-May-2022
direct (1h50m)
Ryanair
Choose your departure month
Biarritz guide: how to get there, what to see
| | |
| --- | --- |
| | Biarritz city centre |
| | Biarritz-Anglet-Bayonne Airport (BIQ): 2 mi from city centre |
Flights to Biarritz: practical information
Cheap airlines to Biarritz
If you've already been wishing or planning to visit France, then Biarritz is a must. This beautiful city on the coast is a call unto its own. There are direct flights from London with Ryanair, the cheapest option for your holiday in Barritz. Biarritz-Anglet-Bayonne International Airport (BIQ) also welcomes flights operated by Air France and easyJet.
When to book flights to Biarritz
Cheap flights are the best way to trim any travel budget and have a few extra pounds to spend. Search for your flights at least 3-6 months in advance if you want to find the best deals. Biarritz is around 7 hours drive from Paris. If making a road trip part of your trp intrigues you, grab cheap flights to Paris and then hire a car to Biarritz.
Peak season: Summers.
Low season: Winters although, many visit for some winter sun as well.
Flight duration
Direct flights to Biarritz take 1 hour 45 minutes from London.
Experience Biarritz: what to see, what to do
Take this city on by foot. It's very "walker-friendly" so make sure you pack a comfortable pair of shoes. From shopping to lunch to the beach to the best surf spots, there's nowhere you can't reach on foot.
Essentials in Biarritz
Seaside: The city is most famous for its picturesque and rocky beaches so don't miss out. Discover something new at the Museum of the Sea with tons of sea creatures like seals, anemones and even sharks!
Beaches: As you may have already noticed, the ocean is the centre of attention in this French city. Surfers flock to Boulevard du Prince de Galles which has almost no beach once high-tide sets in. Anglet is also another popular surf spot. For swimming, check out the Esplanade.
Day trips: For day trips out of the city, consider visiting Bayonne, exploring the Pyrenees mountains or hopping across the border and visiting San Sebastian with your Biarritz car hire, another popular beach city along the northern cost of Spain.
Find more information on Biarritz.fr.
Accommodations in Biarritz
Biarritz is extremely popular during the summer months and when France have school holidays. If you're planning to visit at these times, book your hotels in Barritz as early as possible. For surfers and budget travellers don't miss out on hostels which include bike rentals and board hire in their room fees.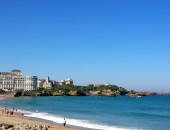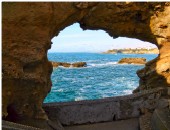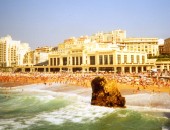 All flight tickets to Biarritz (France)
outbound:
21-May-2022
1 stop (13h55m)
Air France
return:
23-May-2022
1 stop (8h15m)
Hop!