When to find the cheapest flights to Billund
Sorry! We haven't found any flights to Billund. Try launching another search above.
Choose your departure month
Billund: for true Lego-lovers
| | |
| --- | --- |
| | Billund city centre |
| | Billund Airport (BLL): 1 mi from city centre |
Flights to Billund: practical information
Cheap airlines to Billund
There's only one real reason to book a holiday in Billund: LEGOLAND! Planning your escape there? Start with cheap flights to Billund AIrport (BLL), one of Denmark's biggest and busiest airports. Cimber Sterling AIrlines, KLM, and Finnair all fly to Billund but the cheapest flights are onboard Ryanair.
When to book flights to Billund
Billund can be rather dreary in winter so plan your trip to Billund for spring or better, summer. Book your flights at least three months in advance for the best ticket offers. Also, best to avoid any school holidays when Legoland is likely to be packed.
Peak season: Summer, school holidays like half-term.
Low season: Winters are generally quiet and dreary.
Flight duration
Direct flights to Billund take 1 hour 30 minutes from London.
Experience Billund: what to see, what to do
For Lego fans, there are two main sights to see in Billund. First is the famous and original Legoland. It is Denmark's most visited attraction outside of Copenhagen and features more than 50 rides and displays which are built using 15+ million lego bricks. Next is the LEGO Factory where you can take a multi-day tour of the production and development facilities. Here's what you need to know about visiting the two.
Billund for Lego-lovers
Legoland: Legoland is located at 9 Nordmarksvej and is open 10am to 5pm daily but has later opening hours in summer. The park mainly closes down from November to March when tourist traffic slows. Entry for kids ages 3-12 is 279 DKK and for adults, 299 DKK.
LEGO Factory: The Factory doesn't run regular tours so if you're interested in getting inside the factory, it pays to email in advance and sign yourself up for a future tour. These tours are not to be missed as they include access to Legoland, a meet and greet with Lego designers and accommodation. The tour will set you back 13,000 DKK.
Find more information on Visit Billund.
Accommodation in Billund
Most visitors in summer will stay at the city's theme park, Lalandia which has plenty of holiday rentals available. In town however, there are a few B&Bs and small hotels. If you're visiting Billund for Legoland, why not stay at Hotel Legoland or in Legoland Village?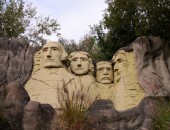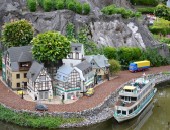 All flight tickets to Billund (Denmark)
Sorry! We haven't found any flights to Billund. Try launching another search above.