When to find the cheapest flights to Birmingham
outbound:
22-Feb-2021
1 stop (4h)
Air France
return:
23-Mar-2021
direct (1h20m)
Hop!
outbound:
22-Mar-2021
1 stop (11h20m)
KLM
return:
30-Mar-2021
1 stop (27h05m)
KLM
Choose your departure month
Birmingham guide: how to get there, what to see
Distance from Birmingham city centre
7 mi
20 mi
35 mi
Flights to Birmingham: practical information
Cheap airlines to Birmingham
Make a quick getaway or an extended stay in Birmingham and enjoy the unexpected delights on offer here. Birmingham International Airport (BHX) is located 8 miles outside of Birmingham, to the south-east and welcomes flights from all over the world, as far away as Dubai and Delhi!
When to book flights to Birmingham
Birmingham is most enjoyable in the warmer months when attractions in the city and the countryside open... Ludlow Castle, Worcester and Hereford for example. The city has a maritime climate similar to the British Isles. In the summer months the maximum daily high is around 20˚C while winter days hover around 4˚C.
Peak season: Summers, half-term holidays and Christmas.
Low season: Winter.
Flight duration
Flights to Birmingham take 1 hour 20 minutes from Glasgow.
Experience Birmingham: what to see, what to do
Birmingham is the home to Ozzy Osborn, J.R.R. Tolkien, and Cadbury chocolate. It is also the second largest city in England located in the west midlands county with a history of being an industrial hot-spot place for factory workers. Its key to popularity was its boom in trade industry but now the city is changing into a more vibrant cultural centre.
Essentials in Birmingham
The Bullring: Millions of pounds were poured into a new innovative shopping centre called the Bullring, now one of the biggest retail shopping centres in Europe. Don't miss the giant Selfridges!
Cadbury Factory: Succumb to your sweet tooth at the chocolate factory and you're on your way to enjoying everything that Birmingham holidays have to offer. Chocolate-lovers should make a stop at the Cadbury Factory to see the stages of chocolate production and the history of chocolate. This place is where chocolate comes alive, from cocoa bean to Caramilk bars.
Arts and music: Apart from shopping and development, Birmingham has a happening art scene. Head to the city centre and catch a show at the Symphony Hall or a ballet at the Birmingham Hippodrome. For something more edgy, there are dozens of concert venues down town to keep any visitor busy.
Find more information on Visit Birmingham.
Accommodations in Birmingham
Hostels are by far the cheapest and most social places to spend your nights in Birmingham.There are a number that cater to students and backpackers. In the mid-range you'll find plenty of Birmingham hotels in the city centre for affordable rates.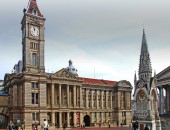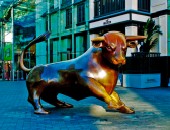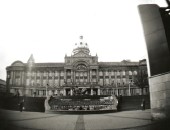 Birmingham in the Traveller's Magazine
Travel News
Birmingham is experiencing a surge in tourist numbers. Is Brum the next top destination in Britain?
All flight tickets to Birmingham (United Kingdom)
Sorry! We haven't found any flights to Birmingham. Try launching another search above.