When to find the cheapest flights to Blackpool
Sorry! We haven't found any flights to Blackpool. Try launching another search above.
Blackpool: Britain's favourite beach resort
| | |
| --- | --- |
| | Blackpool city centre |
| | Blackpool Airport (BLK): 4 mi from city centre |
Flights to Blackpool: practical information
Cheap airlines to Blackpool
When the weather is fine there's no better place to be than on a holiday in Blackpool.The UK's most popular beach resort town is easy to reach with cheap flights to Blackpool Airport (BLK) from Belfast and Isle of Man. The airport is very small and is only reachable from two destinations from the UK. Jet2 services flights to Blackpool from Belfast.
When to book flights to Blackpool
Summer is the best time and the most popular time to visit Blackpool. Around 12 million people visit Blackpool every year, most in the summertime. If travelling to Blackpool from June to August, be sure to book your flights far in advance, at least 2-3 months.
Peak season: Summer season is extremely busy in Blackpool.
Low season: Winter.
Flight duration
Direct flights to Blackpool take 1 hour from Belfast.
Experience Blackpool: what to see, what to do
From the Blackpool Tower to the city's Pleasure Beach, from vintage arcades to miles of beaches, there is plenty to see and do while visiting this coastal city. Pack your swim suit, flip-flops and your sunblock… let's hit the beach!
Essentials in Blackpool
Pleasure Beach: Blackpool's Pleasure Beach is one of the largest funfairs in the country with 11 roller coasters. Blackpool's oldest ride is what gave roller coasters their name! The fair is known for its Art Deco style as many attractions and stalls date back to the 1930s.
Blackpool Tower: This is Blackpool's Victorian version of the famous Eiffel Tower and the view from the top is worth the money. It's one of the most famous towers in England. If you suffer from vertigo, best not to go all the way up to the top floor's Observation Deck with its glass floor.
The Piers: Blackpool is the only resort town in Britain with three piers. The Northern one is free to go on while the central one has a ferris wheel as well as some children's rides. The Southern pier is more geared to children and is much more modern.
Find more information on Visit Blackpool.
Accommodations in Blackpool
The saying goes that Blackpool has a million tourist beds. There are budget hotels for travellers on a shoestring as well as small guesthouses and more posh places on the seaside too. Thanks to the large supply, hotels in Blackpool tend to be on the cheaper side as competition is high.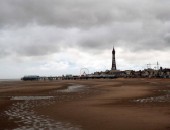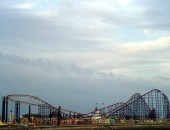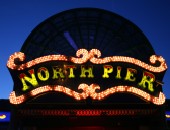 Blackpool in the Traveller's Magazine
Travel News
Thomas Cook takes a closer look at the history of the British holidaymaker: from the late 1800s to present day.
Travel Tips
We're thrilled to bring you the most fun theme parks from around the world. Some close to home like Blackpool Pleasure Beach and others further afield in Florida and even a retro pick from New York City.
All flight tickets to Blackpool (United Kingdom)
Sorry! We haven't found any flights to Blackpool. Try launching another search above.