When to find the cheapest flights to Bodrum
Sorry! We haven't found any flights to Bodrum. Try launching another search above.
Bodrum guide: how to get there, what to see
Distance from Bodrum city centre
15 mi
19 mi
Flights to Bodrum: practical information
Cheap airlines to Bodrum
Thanks to Bodrum's popularity as a holiday hot-spot, there are dozens of airlines connecting Turkey with the UK. Bodrum-Milas Airport (BJV) is located 35km from the city and in summer, sees mostly charter flights landing on its runways.
When to book flights to Bodrum
Whether you're heading here in summer, winter or in the shoulder seasons you can find great deals from London and all over the UK, especially during the spring and autumn.
Peak season: Summer, which begins in April.
Low season: Winter, from November to April.
Flight duration
Flights to Bodrum with one stopover take at least 6h 40min from London.
Experience Bodrum: what to do, what to see
Once known as Halikarnassus, Bodrum is an ancient city that seems to be making it quite well in the modern world. You can still find traces of the Old City around town but with such a beautiful coast, it's not surprising that this city is the centre of Turkish tourism. Holidays in Bodrum are not just about enjoying the endless sunny days, great beaches and nightly parties, it's a history lesson as well!
Essentials in Bodrum
Bodrum Castle:Most visitors head first to Bodrum Castle, it's hard to miss! It is one of the best preserved sites from Medieval times in the world and is right in the marina area. Take a guided tour or just wander around on your own.
Windmills: You will notice right away that Bodrum is also famous for its peculiar white windmills. They are made with stone and lined with wood and were in use as fas back as the 18th century to grind flour and other grains.
Beaches: The city beach stretches all the way from the castle Halikarnas; it's great for swimming. Lounge out on one of the free sunbeds or right on the small pebble beach. For real sand, head to Gumbet or Bitez with a Bodrum car hire, they both make great day trips. The water here is quite shallow and not idea for swimming.
Find more information on tourismturkey.org.
Accommodations in Bodrum
There are only three real choices for accommodations in Bodrum: hotel, resort and hostel. Your style and how many people you're travelling with will likely affect which you choose. The most expensive hotels and resorts in Bodrum are more removed from the action, great for secluded holidays.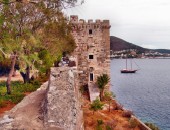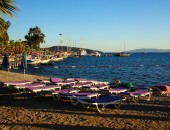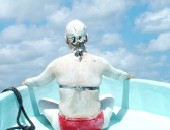 All flight tickets to Bodrum (Turkey)
Sorry! We haven't found any flights to Bodrum. Try launching another search above.