Find the cheapest flights to Bolivia by date
outbound:
26-Aug-2022
2 stops (42h33m)
United Airlines
return:
05-Sep-2022
2 stops (23h)
United Airlines
Bolivia: a natural paradise
Flights to Bolivia: practical information
Cheap airlines to Bolivia
Visiting beautiful Bolivia? The "Tibet of the Americas" awaits! Catch cheap flights to Bolivia landing at La Paz Airport (LPB) on the western side of the country or Santa Cruz (VVI) to the east. British Airways, American Airlines, LAN, among others offer flights to Bolivia with stopovers.
When to book flights to Bolivia
The climate in Bolivia really depends on altitude with tropical and humid areas in one part and arid, dry weather in others. Winters tend to be dry while summers tend to be rainy. It's a good idea to book flights to Bolivia at least six months before you plan to visit.
Peak season: The shoulder seasons, spring and fall tend to be the best for holidays in Bolivia.
Low season: Winters, April to October.
Flight duration
Flights to Bolivia take around 20 hours with stopovers from London.
Experience Bolivia: what to see, what to do
Bolivia is incredibly diverse, multicultural and extremely beautiful. If you're after adventure, you'll certainly find it here whether to tackle Death Road on mountain bike or explore the untouched provinces. Lake Titicaca is also a must but if you're here for shopping the silver in Potosi will certainly delight.
Essentials in Bolivia
Death Road: Are you a thrill-seeker? Take a mountain bike tour from La Cumbre to Coroico. It's a 64km trail and extremely narrow on the old section of the North Yungas Road.
Tiwanaku: If it's ancient ruins you're after, look no further than Tiwanaku. You'll find pre-Inca ruins here in the Bolivian highlands. The area is an UNESCO site surrounded by glorious mountains and Lake Titicaca not too far away.
Potosi: With silver mines a plenty, Potosi was once one of the wealthiest cities in the world. Today it's a great city for buying unique silver jewellery and handcrafts. Don't miss the National Mint Museum.
Find more information on Discover Bolivia.
Accommodation in Bolivia
Hotels are extremely reasonably priced in Bolivia for Western travellers. You'll find it all from backpackers hostels to luxurious hotels in La Paz and around the country. The most basic hotel is often called an Alojamiento.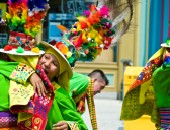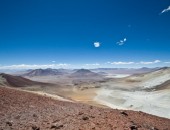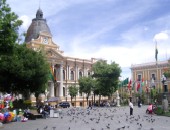 All flight tickets to Bolivia
outbound:
26-Aug-2022
2 stops (42h33m)
United Airlines
return:
05-Sep-2022
2 stops (23h)
United Airlines