When to find the cheapest flights to Bremen
outbound:
26-Nov-2018
direct (1h25m)
Ryanair
return:
29-Nov-2018
direct (1h30m)
Ryanair
outbound:
25-Apr-2019
1 stop (10h30m)
Air France
return:
02-May-2019
1 stop (4h10m)
Air France
Choose your departure month
Bremen: 1,200 years young
| | |
| --- | --- |
| | Bremen city centre |
| | City Airport Bremen (BRE): 2 mi from city centre |
Flights to Bremen: practical information
Cheap airlines to Bremen
Bremen, a town in northern Germany, is all too often overlooked! With more than 1,200 years of history, this once independent city-state has so much to offer. Start your holiday in Bremen with cheap flights onboard Ryanair, OLT or Lufthansa. KLM also offers flights to Bremen with a stopover in Amsterdam.
When to book flights to Bremen
Bremen can be enjoyed year round but it's same to say that summer is likely the busiest time of the year to visit. No matter the time, it's always recommended to book your flights to Bremen around 12 weeks before you plan to visit for the best possible fares.
Peak season: Summer, Christmastime.
Low season: Winter, excluding Christmas.
Flight duration
Direct flights to Bremen take 1 hour 20 minutes from London.
Experience Bremen: what to see, what to do
There is plenty to see and do while visiting Bremen. The city centre's old medieval buildings will charm, the Bremer Kunsthalle will feed your appetite for art, on a nice summer's day there's no place to be except strolling along the River Weser to Osterdeich.
Essentials in Bremen
Dom St. Petro: The Cathedral of Saint Peter is over 1,200 years old and the facade dominates the city's main square. Inside, the interior will impress, as will the paintings on the ceilings. Entry is free so don't miss out.
Bottcherstrasse: This street is famous for its Art Nouveau buildings and runs from the main square all the way down towards the river. It's a must for those interested in architecture and design.
Schnoor: For a bit of shopping and wandering, head to this part of town with plenty of tiny, winding streets to get lost in. There are many shops and also the world's smallest hotel is located here, called Hochzeitshaus-Bremen.
Find more information on Bremen Tourism.
Accommodations in Bremen
If you want a truly unique experience, booking the one and only room at Bremen's Hockzeitshaus is a must! It claims to be the world's smallest hotel and is located in the heart of the charming Schnoor area. Otherwise you'll find several budget and mid-range hotels in the city centre as well as a Hilton.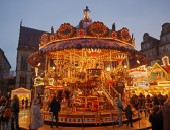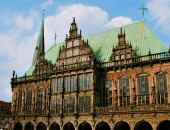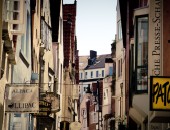 All flight tickets to Bremen (Germany)
outbound:
26-Nov-2018
direct (1h25m)
Ryanair
return:
29-Nov-2018
direct (1h30m)
Ryanair