When to find the cheapest flights to Brindisi
Sorry! We haven't found any flights to Brindisi. Try launching another search above.
Brindisi: the heel of Italy's boot
| | |
| --- | --- |
| | Brindisi city centre |
| | Brindisi-Salento Airport (BDS): 2 mi from city centre |
Flights to Brindisi: practical information
Cheap airlines to Brindisi
Brindisi is right on the "heel" of Italy's boot and is an exciting place to visit. Planning a holiday in Brindisi? Start off with cheap flights to Brindisi Airport (BDS) onboard Alitalia, Italy's national airline. Ryanair also flies from London to Brindisi and as a low cost airline, offers the cheapest fares.
When to book flights to Brindisi
Brindisi is a summer hot spot. Being on the coast, it's a great place to take a beach holiday. For trips in summer, make sure you book your flights at least 3 months in advance for the best flight prices.
Peak season: Summer, especially during August.
Low season: Winter tends to be a cheap time to visit.
Flight duration
Direct flights to Brindisi take around 3 hours from London.
Experience Brindisi: what to see, what to do
Brindisi is a port city and the harbour is where all the action happens. In the evenings, there's nothing like a walk down Corso Garibaldi, a pedestrian promenade along the seafront. As for history, this was the end of the Via Appia, the ancient Roman Road.
Essentials in Brindisi
Roman Columns: Brindisi was the end of the road for the Romans. This is where the Via Appia ended and you can still see how the Romans left their mark on the city.
Monument to remember Italian Soldiers: For something a little different, take a boat along the Viale Regina Margherita across to the harbour where the monument for Italian Soldiers stands. It was erected by Mussolini in the 1930s.
Chiesa di Santa Maria: This church is one of the main sights in Brindisi and is just outside of town. It was build in the 1300s by Prince Philip of Taranto in Romanesque, Gothic and Byzantine style.
Find more information on Puglia Tourism Board.
Accommodations in Brindisi
While there are hotels in Brindisi, most visitors are likely to stay outside the city in seaside resorts and use a rental car to come in and out of the city. If you're looking for a hotel in the city centre, be sure to book ahead as there is bigger demand than supply.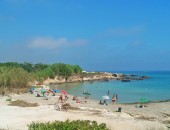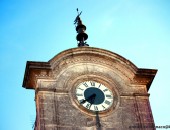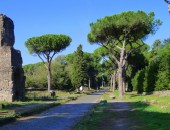 All flight tickets to Brindisi (Italy)
Sorry! We haven't found any flights to Brindisi. Try launching another search above.