When to find the cheapest flights to Brussels
outbound:
02-Aug-2020
direct (1h15m)
British Airways
return:
23-Aug-2020
direct (1h10m)
British Airways
outbound:
02-Aug-2020
1 stop (11h40m)
Alitalia
return:
23-Aug-2020
1 stop (8h40m)
Alitalia
Brussels guide: how to get there, what to see
Distance from Brussels city centre
9 mi
26 mi
Flights to Brussels: practical information
Cheap airlines to Brussels
When searching for your cheap flights to Brussels you have two airport to choose from: Brussels Airport (BRU) or Brussels Midi (ZYR). You can get direct cheap flights from London to Brussels with BMI as well as Brussels Airlines.
When to book flights to Brussels
According to statistics taken from the last 100 years, it rains in Brussels 200 days a year so packing an umbrella is essential any time of the year. It rarely snows as winter temperatures are usually just above freezing.
Peak season: Summer when weather is mild.
Low season: Winter, autumn when the most rain falls.
Flight duration
Direct flights to Brussels take 1 hour 15 minutes from London.
Experience Brussels: what to see, what to do
Get ready to experience culture and diversity at its finest in Brussels. From the city centre to the city outskirts, there is so much to discover. Getting around is easy with a Brussels car hire.
Essentials in Brussels
History: The historic part of Brussels is over 1000 years old, putting a lot of history on one's plate in just one day. The historic centre is made up of a number of concentric ring roads. In the middle of the central ring you'll find the city's most famous sights including the Porte de Hal, the place de la Chapelle, Palais de Justice and the basilica. If you have a few days spend one in the historic centre and then the rest of your holiday in Brussels discovering the uptown squares and museums.
Gastronomy: Brussels is known for a few things besides being the capital of Europe. It excels at waffles, chocolate, French fries, Brussels sprouts, and of course a number of different types of beer.
Like a local: Originally Dutch speaking, now French is what the street talks but there is some tension on the subject. This city is a place where split personalities thrive. The locals are casual and enjoy themselves in outdoor patios when the weather is warm.
Find more information on Visit Brussels.
Accommodations in Brussels
Since one in every two travellers is in Brussels on "business" it's easy to understand why it's hard to find cheap hotels in Brussels. The best deals are during weekend, especially during the summer when business travellers aren't so many.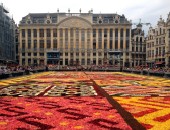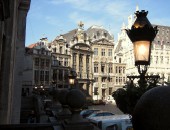 Brussels in the Traveller's Magazine
Travel Inspiration
Imagine being lost somewhere in north-western Belgium and have a dreary old time. Not exactly a dream, is it? And yet… Bruges is one of Europe's most inspiring and romantic cities. Here's a little photo essay to prove it. The weather is rarely good in Bruges and you run a high risk of visiting the … Continued
Travel Inspiration
Spring is a great time to travel especially when there's a good deal on. Brussels Airlines is offering flights at -20% off their regular price this spring, just in time to catch free jazz concerts and other cultural events!
Travel Inspiration
Every two years Brussels' Grand Place trades its cobble stone square for a lush carpet. This isn't just any carpet though, it's hand-laid with flowers. Colourful begonia blossoms create an intricate pattern, what is best viewed from the balcony in City Hall. It's happening this year on August 12th. Brussels' flower carpet is an incredible … Continued
All flight tickets to Brussels (Belgium)
Sorry! We haven't found any flights to Brussels. Try launching another search above.