When to find the cheapest flights to Cagliari
outbound:
24-Sep-2019
direct (2h40m)
easyJet
return:
25-Sep-2019
direct (2h45m)
easyJet
outbound:
21-Sep-2019
1 stop (8h50m)
KLM
return:
28-Sep-2019
2 stops (10h25m)
Alitalia
Choose your departure month
Cagliari: the heart of Sardinia
| | |
| --- | --- |
| | Cagliari city centre |
| | Elmas Airport (CAG): 4 mi from city centre |
Flights to Cagliari: practical information
Cheap airlines to Cagliari
Is Italy's beautiful island of Sardinia calling? Catch cheap flights to Cagliari Elmas Airport (CAG) onboard Alitalia, Italy's national airline, Lufthansa but cheapest of all, easyJet. The low cost airline departs from London Stansted and arrives in Cagliari in less than three hours.
When to book flights to Cagliari
Cagliari and Sardinia are generally busiest in summer when the Mediterranean water is warm and the beaches start to get crowded with both Italians and foreigners. Book your flights to Cagliari at least three months in advance for the best deal on your tickets.
Peak season: Summer, generally June to the end of August.
Low season: Winter is a quiet time to visit, with many hotels closing for the season.
Flight duration
Direct flights to Cagliari take 2 hours 45 minutes from London.
Experience Cagliari: what to see, what to do
Cagliari is the capital of Sardinia and the place where most visitors touch-down. While many rush off to their resorts in other parts of the island, Cagliari is a treat and it would be a shame to skip it altogether.
Essentials in Cagliari
Poetto Bach: Of course the city has an amazing beach. This one is 8km long and a great spot if you want all the beach amenities. Parts of the beach are private and run by the beach clubs which charge €3 entry but offer toilets and showers.
Shopping: Cagliari has some great shopping in and around Via Roma and Largo Carlo Felice. The pedestrian streets Via Manno and Via Garibaldi in the city centre are also great spots to shop while on holidays in Cagliari.
Eating out: Walking around the old town, it's pretty difficult to choose a bad restaurant here. Food is almost always good, especially if you're ordering sea food or the "catch of the day."
Find more information on Cagliari Tourism.
Accommodation in Cagliari
Cagliari has a number of hotels and beach-front resorts just outside of the city. If you're visiting in summer, it's essential to book your hotel in Cagliari well in advance if you want to avoid disappointment. Rooms in the famous Forte village tend to fill up months in advance.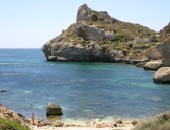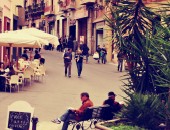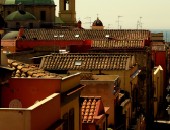 All flight tickets to Cagliari (Italy)
outbound:
24-Sep-2019
direct (2h40m)
easyJet
return:
25-Sep-2019
direct (2h45m)
easyJet