When to find the cheapest flights to Carcassonne
Sorry! We haven't found any flights to Carcassonne. Try launching another search above.
Carcassonne guide: how to get there, what to see
| | |
| --- | --- |
| | Carcassonne city centre |
| | Salvaza Airport (CCF): 2 mi from city centre |
Flights to Carcassonne: practical information
Cheap airlines to Carcassonne
Carcassonne, the walled city, is a treat to visit. Start your holiday planning with cheap flights to Carcassonne Airport (CCF), just 3km outside the city centre. From London, it's little more than a Ryanair flight away. Ryanair also flies from Liverpool to Carcassonne.
When to book flights to Carcassonne
As with most low cost flights, it's best to start browsing three or four months in advance for the best price. Keep your flights to Carcassonne cheap by travelling with no checked luggage and remembering to print your boarding passes in advance.
Peak season: Summer and early fall.
Low season: Winter.
Flight duration
Direct flights to Carcassonne take 2 hours from London.
Experience Carcassonne: what to see, what to do
Every holiday in Carcassonne starts with a visit to the walled city, an impressive UNESCO fortress which made an appearance in Robin Hood: Prince of THieves. It's a city that can be seen in a day.
Essentials in Carcassonne
The Cité: The medieval fortress is a must which a history older than two thousand years. Many of its features were reconstructed in the 19th century and it's certainly a sight to see, especially when lit up at night.
Ville Basse: The "lower city" is where you'll find the rest of the city sprawled out beneath the fortress. You can easily waste away an afternoon wandering the small streets and soaking up the sun in a small plaza.
Around Carcassonne: If you have a Carcassonne car hire take advantage of it by visiting surrounding towns like Minerve. Take the smaller roads and you'll discover charming little towns and places that are authentically French.
Find more information on Carcassonne Tourism.
Accommodations in Carcassonne
Most all of Carcassonne's hotels are located in the Ville Basse, particularly around the train station. If you're visiting in summer, it's best to book your rooms as early as possible. Don't overlook the small guesthouses in old abbeys or townhouses.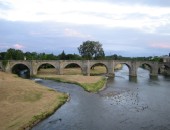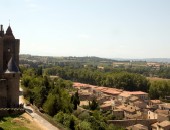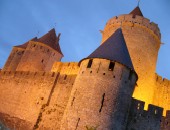 All flight tickets to Carcassonne (France)
Sorry! We haven't found any flights to Carcassonne. Try launching another search above.