When to find the cheapest flights to Chicago
Sorry! We haven't found any flights to Chicago. Try launching another search above.
Chicago guide: how to get there, what to see
Distance from Chicago city centre
7 mi
16 mi
Flights to Chicago: practical information
Cheap airlines to Chicago
Finding last-minute flights to the windy city of Chicago is easy with liligo.com. Choose from O'Hare International Airport (ORD), which is the world's second busiest airport or Chicago Midway International Airport (MDW), which oversees many of Chicago's domestic flights for many major airlines.
When to book flights to Chicago
When planning your holidays in Chicago, take the weather into account. Winter is bone-chilling while summer is hot and humid. Locals find respite hanging out along the lake shore when the heat is too much to handle.
Peak season: Summer, June through to September.
Low season: Winter, when temperatures plunge to sub-zero.
Flight duration
Direct flights to Chicago take just less than 9 hours from London, although flights with one stopover can also take as little as 10.5 hours.
Experience Chicago: what to see, what to do
Whether you want to hang around in the busy downtown area or head out to the Heights for some pleasure shopping, going to Chicago is a snap when you find your hotels and a Chicago rental car on liligo.com.
Essentials in Chicago
Magnificent Mile: Not only will you find interesting shopping here, but you'll also see the tallest buildings in the USA here. It's modern but you'll also find a few historical gems here like the Wrigley Building and the Tribune Tower building.
Chicago cuisine: Chicago cuisine is a blended diversity of tastes and enjoyable dining experiences. Try a Chicago hot dog that is smothered mustard, onion, relish, pickle and tomato and cheese. The main dish though, is deep dish pizza. It's made with thin crust and baked with all the toppings.
Loop Art Tour: For street art and public sculpture, take yourself on a walking tour, called the Loop Art Tour of downtown. It's like a free art museum and is best enjoyed on a sunny day! It takes you through Millennium Park, to the famous Art Institute of Chicago, to Aon Centre Plaza and onwards to several other cool spots in the city. It takes 2-4 hours.
Find more information on Explore Chicago.
Accommodations in Chicago
You'll have no problem finding hotels in Chicago to suit your budget. If you're visiting during American holidays like July 4th, Thanksgiving, Christmas and New Year's you're best to search for your hotels well in advance for the better deals.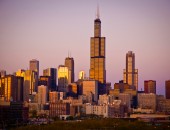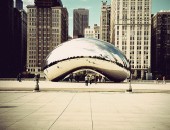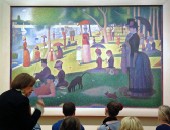 Chicago in the Traveller's Magazine
Featured
Fancy a trip to Chicago in the dead of winter? Be prepared for a chilly trip but there's plenty to see and do in the Windy City, even in winter. Here's our tips to get you started.
Latest news
The first renderings of the future Lucas Museum of Narrative Art have been released... and it looks like something straight out of Star Wars.
Travel News
George Lucas' next project includes a museum in Chicago dedicated to narrative art, from images to cinema.
All flight tickets to Chicago (USA)
Sorry! We haven't found any flights to Chicago. Try launching another search above.