Find the cheapest flights to Chile by date
outbound:
25-May-2021
2 stops (25h)
Air Europa
return:
04-Jul-2021
2 stops (24h50m)
Air Europa
Chile: from Patagonia to Santiago and beyond
Flights to Chile: practical information
Cheap airlines to Chile
Planning a holiday in Chile? This gorgeous South American country has it all from amazing landscapes, culture, beaches, food and more. Start planning your trip with cheap flights to Chile's biggest cities. The most common entry point is Arturo Merino Benitez International Airport (SCL) just outside of Santiago. Both British Airways and Condor offer flights to Chile from London.
When to book flights to Chile
Being located in the Southern Hemisphere, it's good to keep in mind that Chile's season are opposite ours. Peak season is our winter when the days are bright, warm and summery in Chile. In all cases, it's best to book your flights to Chile at least 6 months in advance for the cheapest flight fares.
Peak season: Summer (December to February).
Low season:Winter (June to August).
Flight duration
Flights to Chile take around 20 hours with stopovers from London.
Experience Chile: what to see, what to do
While not the biggest country, Chile varies greatly from north to south with plenty to discover in between. From Santiago to the driest desert in the world, from the beautiful Patagonia region to Easter Island.
Essentials in Chile
Santiago: For any first-timer in Chile, Santiago is a must. Its museums, theatres, restaurants and bars are world-class. Start at Plaza de Armas and stop by La Shascona, Pablo Neruda's house and finally take a tour of the city's jazz clubs.
Patagonia: Western Patagonia is one of the most incredible landscapes in the world! Tierra del Fuego is great for hiking and trekking. The Perito Moreno Glacier and sheet ice are incredible and let's not forget the penguins in Ushuaia.
Easter Island: This secluded and isolated island is one of the most mysterious in the world. Head to Rapa Nui and discover the Moai statues that dot the island's hills.
Find more information on Chile Tourism Board.
Accommodations in Chile
Chile has quite a lot to offer in terms of hotel accommodation. In larger cities, travellers shouldn't have a problem finding a hotel in Chile. For backpackers, small hostels are always available and in the mountains, ski lodges and resorts abound.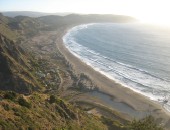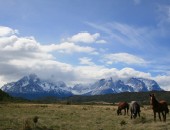 All flight tickets to Chile
Sorry! We haven't found any flights to Chile. Try launching another search above.