When to find the cheapest flights to Corfu
outbound:
10-Aug-2020
direct (3h20m)
Jet2
return:
16-Aug-2020
direct (3h05m)
Ryanair
Corfu guide: how to get there, what to see
| | |
| --- | --- |
| | Corfu city centre |
| | Ioannis Kapodistrias International Airport (CFU): 1 mi from city centre |
Flights to Corfu: practical information
Cheap airlines to Corfu
Corfu is one of the most popular Greek holiday islands so don't miss out on finding the cheapest flights to Corfu. From the UK, you'll have no problem finding direct flights to Corfu International Airport (CFU) from London or Manchester.
When to book flights to Corfu
Most visitors to Corfu head there during the summer months, to spend their holidays in Corfu on the beach. If you want cheap flights to Corfu, better avoid July and August and opt for holidays in the early summer, June, or late summer, September.
Peak season: Late June to late August.
Low season: Spring and autumn.
Flight duration
Direct flights to Corfu take 3h 10min from London.
Experience Corfu: what to see, what to do
There's a reason why Corfu is one of the most popular islands to visit in Greece. It's a holiday paradise with great sights, beaches and is also called the "Green Island" thanks to its lush vegetation.
Essentials in Corfu
Kerkyra: Corfu Town is considered to be one of the most beautiful cities in the Mediterranean. Even if you're only interested in hitting the beach, save as least one day to explore the town to see the medieval castles and other historic sights.
Achilleion: Even the Empress Elisabeth of Austria fell in love with this Greek island. She liked this place so much she built a castle here in Achillion and regularly spent her holidays in Corfu. During the world wars, it served as a hospital and today it houses a museum.
Korission Lake: The lake between Agios Georgios Argiradon and Chalikunas is a must while oh holidays in Corfu. Take your Corfu rent car for the day and play on the sand dunes and cool off in the water. It's a pleasant break from the sea's salty waters.
Find more information on Corfu Visit.
Accommodations in Corfu
Corfu has adjusted very nicely to the tourism it receives, especially in terms of accommodations. There is a wide variety when it comes to hotels in Corfu, in all categories and price ranges. If you're looking for someplace cheap, stick to the low season and book early.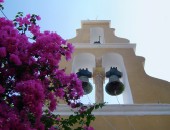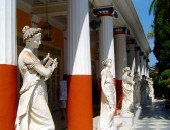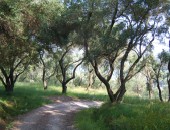 Corfu in the Traveller's Magazine
Travel Inspiration
Is it Easter Weekend already? Have you already stocked up on eggs for the festivities? From Latvia to Hungary and on to Greece, let's see how Europe celebrates Easter! In England, as in many other countries around the world, chocolate eggs are hidden in the gardens for children. There are hot cross buns and marshmallow … Continued
Travel Tips
Travellers are always looking where to find the best deals for their money and this summer, holidaymakers will be pleasantly surprised when they hit up Egypt, Turkey and Greece. Resort prices are down... tourism is up!
All flight tickets to Corfu (Greece)
Sorry! We haven't found any flights to Corfu. Try launching another search above.