When to find the cheapest flights to Cork
Sorry! We haven't found any flights to Cork. Try launching another search above.
Choose your departure month
Cork guide: how to get there, what to see
| | |
| --- | --- |
| | Cork city centre |
| | Cork Airport (ORK): 3 mi from city centre |
Flights to Cork: practical information
Cheap airlines to Cork
Lovely Cork, situated on the picturesque banks of the River Lee in the southern parts of Ireland. If a trip to the Emerald Isles is in your cards, start searching for cheap flights to Cork now. Cork Airport (ORK) is the second busiest in Ireland after Dublin an offers great connections from the UK.
When to book flights to Cork
Cork stays mild year-round so there's never really a bad time to visit. The city is busiest during the summer and in spring when the Cork Choral Festival attracts visitors from around the world.
Peak season: Summer, spring during the Choral Festival.
Low season: Winter.
Flight duration
Direct flights to Cork take 1 hour 25 minutes from London.
Experience Cork: what to see, what to do
Cork's name may mean 'marsh' but it's far from being a swampy abyss. Cork's stunning churches, castles and historic markets make it a treat to visit year-round but especially in summer.
Essentials in Cork
Blarney Castle: Blarney Castle is probably the most popular reason why visitors plan holidays in Cork. It's located in Blarney village, a short distance away and a good reason to have a Cork car hire. The castle is open year round, but do remember that kissing the Blarney Stone in winter is particularly chilling!
English Market: Cork's historical covered market should not be missed while your'e in the city centre. It's located at the Grand Parade on the South Mall. One any given day of the week the market is teeming with food stalls.
Shandon Church: This church's tower and bells are symbols of Cork. The pretty parish overlooks the city from the north. Visitors are even allowed to give a ring to the church bells.
Lough Park: This is one of the best parts of central Cork, just 1km to the south of the city centre. The park features a small limestone lake which is fed from springs. It is Ireland's oldest park.
Find more information on Discover Ireland.
Accommodations in Cork
Cork has a number of accommodation options from budget hostels and hotels to mid-range inns and boutique hotels. Many of the more luxury options are houses in historic manors and estate houses, such a treat! If visiting in summer, make sure you book your hotels in Cork well in advance.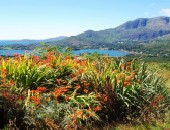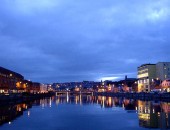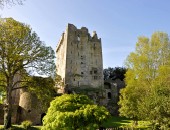 All flight tickets to Cork (Ireland)
Sorry! We haven't found any flights to Cork. Try launching another search above.