Find the cheapest flights to Czech Republic by date
outbound:
21-Jul-2020
1 stop (12h10m)
Vueling
return:
25-Jul-2020
1 stop (11h55m)
Vueling
Czech Republic: a land of stories
Flights to Czech Republic: practical information
Cheap airlines to Czech Republic
Is Central Europe calling? The Czech Republic is famous for its beer, cultural traditions, castles and majestic architecture in Prague. Start planning your holiday in the Czech Republic with flights to Vaclav Havel Airport (PRG) outside of Prague. Ryanair, easyJet, Eurowings, Lufthansa Jet2 and others fly the route.
When to book flights to Czech Republic
Summer is by far the most popular time to visit the Czech Republic and usually the priciest when it come to flights and hotels. Book at least 3 months in advance for the cheapest fares. The Czech Republic is also popular at Christmastime for its traditional markets.
Peak season: Summer and Christmas/New Year's.
Low season: Winter.
Flight duration
Direct flights to the Czech Republic take just under 2 hours from London.
Experience Czech Republic: what to see, what to do
The Czech Republic may not be large but its history and rich culture make it a must on any European tour. From Bohemia to Moravia, from Prague to Brno, Ostrava and to the mountains… here's a taste of what you can see and do in the Czech Republic.
Essentials in Czech Republic
Prague: Most visitors will start in the capital. Prague's historic city centre is stunning and has plenty of famous sights like the Astronomical Clock, Charles Bridge and Castle. Prague has dozens of fabulous museums and don't miss the Christmas Market in December.
Krkonoše: The highest mountains in the Czech Republic are right on the border with Poland. In winter this region is a popular spot for skiing and winter holidays.
Brno: Brno is the second largest city in the country and is quite a modern one. If you hire a car in the Czech Republic, don't miss the chance to travel north of Brno to the Macocha Caves. A guided tour will take you through all sorts of tunnels and even on a boat ride along an underground river.
Find more information on Czech Tourism.
Accommodation in Czech Republic
There's no shortage of hotel options in the Czech Republic, especially in Prague, Brno and other medium-sized cities. In summer and during national holidays and festivals it's essential to book your hotel in Prague in advance to avoid disappointment.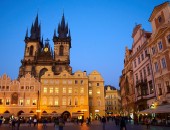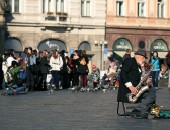 All flight tickets to Czech Republic
Sorry! We haven't found any flights to Czech Republic. Try launching another search above.