Find the cheapest flights to Denmark by date
outbound:
07-Sep-2020
direct (1h50m)
easyJet
return:
15-Sep-2020
direct (2h05m)
easyJet
outbound:
07-Sep-2020
1 stop (6h30m)
Vueling
return:
15-Sep-2020
1 stop (16h05m)
Vueling
Mini guide: Cheap flights to Denmark, tourism and travel info
Flights to Denmark: practical information
Cheap airlines to Denmark
Planning a holiday to Denmark? Start your trip planning with cheap flights to Denmark with low cost airlines. Ryanair flies to Billund (BLL) and Aarhus (AAR) while easyJet flies London to Copenhagen. SAS, Norwegian Air and British Airways also offer cheap flights to Denmark's main airport, Copenhagen International Airport (CPH).
When to book flights to Denmark
Denmark is always a good choice; it's hard not to love this country. Summer is without a doubt the most popular time to visit Denmark and you can see that flights to Denmark are most expensive during this time. For a cheap trip, try visiting in spring or autumn.
Peak season: Summer, for the good weather.
Low season: Winter, to some extend spring and autumn.
Flight duration
Direct flights to Denmark take 3 hours, London to Copenhagen.
Experience Denmark: what to see, what to do
The land of vikings and LEGO, Denmark is a country that may be small but packs a good punch. From the chic and cool Copenhagen to LEGO-land in Billund to the charming north in Jutland and to the beaches of Bornholm… let's go!
Essentials in Denmark
Copenhagen: There are few things not to love about this city. It has great shopping, great restaurants, a ton of museums and is the centre of Danish design traditions. The city's Design Museum is a must.
Skagen: Thinking of spending time on the Danish coast? Get a Denmark car hire and head to Skagen, the classic example of a holiday resort town with its famous yellow houses. It's no wonder so many artists set up shop here in the 19th century!
Elsinore: Denmark is known for its vikings who lived in some prett amazing castles. Elsinore, on the same island as Copenhagen, is home to one castle made famous by Shakespeare. Introducing Hamlet's castle of Kronborg which is a must to visit.
Find more information on Visit Denmark.
Accommodations in Denmark
Denmark won't disappoint when it comes to choice for hotels in Denmark. You will find however that budget accommodation isn't that easy to come by. Try Danhostel, with 95+ locations across the country if you're on a shoestring. For mid-range hotels, the best prices are always found online and well in advance.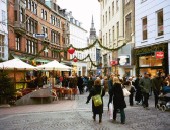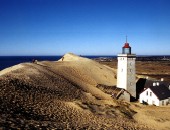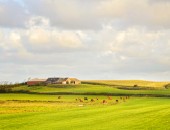 All flight tickets to Denmark
Sorry! We haven't found any flights to Denmark. Try launching another search above.