When to find the cheapest flights to Detroit
Sorry! We haven't found any flights to Detroit. Try launching another search above.
Detroit: more than just the Red Wings
Distance from Detroit city centre
6 mi
18 mi
26 mi
Flights to Detroit: practical information
Cheap airlines to Detroit
Detroit is a city that hasn't gotten the attention it deserves. Home to Motown and America's automotive industry, are you planning a holiday in edgy Detroit? Start with cheap flights to Detroit Metro Airport (DTW) onboard United Airlines, Delta, US Airways, KLM, among others.
When to book flights to Detroit
It's best to book flight to Detroit at least 6 months in advance to secure the best flight deals. As for the best time to visit, summers are ideas, unless you like the bone-chilling cold and snow up to your shoulders!
Peak season: Summer, June to August.
Low season: Winters tend to be very cold and snowy in Detroit.
Flight duration
Flights to Detroit take just under 8 hours, direct from London.
Experience Detroit: what to see, what to do
Detroit is experiencing a regeneration period right now and has so much to offer with new attractions, museums and a buzzing theatre scene. Detroit is the birthplace of American electro music so get ready to party with the industry's greats!
Essentials in Detroit
Downtown architecture: Detroit is a great place to see stunning works of art in the street. The Wayne County Building is the best surviving example of Roman Baroque architecture in the USA while the Fisher Building is a fine example from the Art Deco era. The Guardian Building mosaic interior is a must-see.
Corktown: This is the oldest part of Detroit and was home to many Irish immigrants. Michigan's Central Station is located here, along with the Tigers Stadium.
Greektown: As you can guess, there are plenty of Greeks living in this part of the city. If you're looking for the best Greek cooking outside of Athens, you'll find it here along with some of the city's best nightlife.
Find more information on Visit Detroit.
Accommodations in Detroit
Detroit offers a wide selection of hotels in all ranges. Styles range from riverside elegance, old world charm to modern and chic. It's best to book your hotel rooms in Detroit as far in advance as possible to avoid disappointment.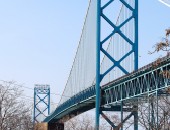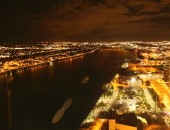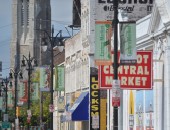 Detroit in the Traveller's Magazine
Featured
For the love of books! These bookshops will satisfy the likes of just about any intrepid bookworm who loves to travel. From the Colony of Books in Calcutta to old warehouses filled with antique novels in Detroit...
Travel Inspiration
Ready to be spooked? Check out these 5 destinations around the world with modern buildings left to ruin. Traces of old life still linger...
All flight tickets to Detroit (USA)
Sorry! We haven't found any flights to Detroit. Try launching another search above.