When to find the cheapest flights to Dinard
Sorry! We haven't found any flights to Dinard. Try launching another search above.
Choose your departure month
Dinard: garden city by the sea
| | |
| --- | --- |
| | Dinard city centre |
| | Dinard-Pleurtuit-Saint-Malo Airport (DNR): 3 mi from city centre |
Flights to Dinard: practical information
Cheap airlines to Dinard
Planning a holiday in Dinard, a beautiful town right on the coast of northern France? It's well connected from London with cheap flights to Dinard onboard Ryanair. During the summer holiday season Aurigny.com also offers flights to Dinard from London and Manchester.
When to book flights to Dinard
Summer is really the best time to experience Dinard. Being right on the coast, Dinard's beaches are a popular place to spend the afternoons. When planning your trip, consider booking your flights to Dinard a few months in advance, 3-4 is best, if you want to secure the cheapest flight fares.
Peak season: Summer, starting in June.
Low season: Winters are generally slow and a cheap time to visit.
Flight duration
Direct flights to Dinard take just over 1 hour from London.
Experience Dinard: what to see, what to do
Dinard is a fishing village turn glorious resort town in the 19th century. It's a popular place for British families escaping to France's sunny coasts for some Vitamin D. Dinard has seen the likes of kings, queens, Europe's aristocrats, artists and the cream of the high society crop.
Essentials in Dinard
St Malo: Get yourself a Dinard car hire and visit the famous walled city of St Malo; it's incredible! The place was bombed to nothing by the Americans and every 18th century building was painstakingly rebuilt in their original style. At low tide, the beach is a great escape!
Tour Solidor: For fantastic views, head to this medieval tower overlooking the port of St-Servan. There's something so charming about all the tiny sailboats out on the water in summer; the perfect photo to send back home.
Longchamp: Rent a surfboard and head to this famous beach. It's the perfect place to surf and the place to see and be seen. Pack a picnic, you won't want to give up your spot on this beach.
Find more information on Dinard Tourism Board.
Accommodations in Dinard
In the summer Dinard's population swells to around 40,000 which means that hotel rooms and apartments are in high demand. It's essential to book your hotels in Dinard in advance. For a touch of luxury, the Grand Hôtel Barrière overlooking the Rance Estuary will do just fine!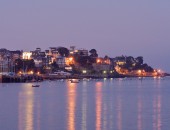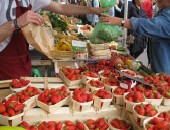 All flight tickets to Dinard (France)
Sorry! We haven't found any flights to Dinard. Try launching another search above.