When to find the cheapest flights to Durban
Sorry! We haven't found any flights to Durban. Try launching another search above.
Durban: Zulu culture, crocs and surfing
Distance from Durban city centre
8 mi
19 mi
Flights to Durban: practical information
Cheap airlines to Durban
If South Africa is calling consider touching down on flights to Durban in the beautiful province of KwaZulu-Natal. King Shaka International Airport (DUR) is the city's main airport which welcomes flights from all over South Africa. Flights to Durban from the UK will no doubt have a stopover in Johannesburg or Cape Town before heading to Durban.
When to book flights to Durban
Durban is right on the beach and the perfect place to enjoy the South African summer (during our winter). Even winter however is warm and frost-free in Durban so there's really no bad time to plan a holiday in Durban. Book your flights to Durban at least 5 months in advance.
Peak season: Late summer, early fall.
Low season: Winter (June to August).
Flight duration
Flights to Durban take at least 14 hours with 1 stopover.
Experience Durban: what to see, what to do
Durban is the busiest port in South Africa and home to the largest community of Indians in the country. Enjoy the curry, relish the beaches along the famed Golden Mile and soak up the Zulu culture!
Essentials in Durban
Golden Mile: As you can imagine, Durban has some pretty fantastic beaches. The Golden Mile includes the beaches near the city centre that border the Indian Ocean. The surfing is excellent here but watch out for sharks.
Crocodile Hunting: Ever want to channel your inner Crocodile Dundee? Head to Crocodile Creek where 7,000+ Nile Crocodiles live. Take a tour and see how many come and say hello!
Mahatma Ghandi Settlement: If it's Zulu culture you're after, head here to experience an authentic Zulu dance performance and learn about the local culture, South Africa's apartheid history and take a trip along the Inanda Heritage Route.
Find more information on Durban Tourism.
Accommodations in Durban
Durban is a popular destination for backpackers so there are plenty of budget Durban hotels on offer. If you're after something more fancy, there are some gorgeous luxury hotels along the waterfront. Always book your hotels in Durban before you arrive.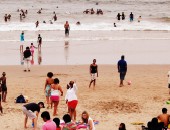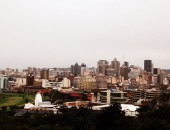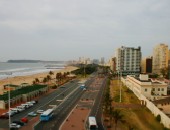 All flight tickets to Durban (South Africa)
Sorry! We haven't found any flights to Durban. Try launching another search above.