When to find the cheapest flights to Edmonton
Sorry! We haven't found any flights to Edmonton. Try launching another search above.
Edmonton: in the heart of Canada's West
Distance from Edmonton city centre
2 mi
9 mi
16 mi
Flights to Edmonton: practical information
Cheap airlines to Edmonton
Western Canada has plenty on offer, are you planning a holiday in Edmonton? Alberta's capital welcomes flights from all over the world. Catch cheap flights to Edmonton International Airport (YEG) onboard Air Canada, British Airways and selection of American airlines.
When to book flights to Edmonton
Summer is when Edmonton is busiest. It's the best time of the year for enjoying the great outdoors. That being said, winter is prime for trips outside of Edmonton to Whistler and Banff with a rental car. Book your flights at least 6-7 months in advance for the cheapest fares.
Peak season: Summer, June to September.
Low season: Winter, except for those heading to ski.
Flight duration
Flights to Edmonton take around 12 hours with a stopover from London.
Experience Edmonton: what to see, what to do
Edmonton's beautiful river valley is the heart of the city that is home to more than a million Canadians. The largest shopping mall in North America is right outside the city limited and if you're up for venturing further, the Rocky Mountains are not too far.
Essentials in Edmonton
Muttart Conservatory: These glass pyramids are iconic in Edmonton and house three distinct ecosystems. Each is packed with hundreds of plants and flowers from around the world. They're truly unique.
West Edmonton Mall: If you have shopping on your itinerary then there's no bettwe place than this entertainment and shopping complex. The mall has a built-in hotel, restaurants, ice rinks, amusement park, artificial beach and indoor wave pool, casino and a replica of the Santa Maria ship!
Elk Island National Park: Not including the Serengeti Plains in Africa, Elk Island Park is home to the highest density of hoofed mammals in the world. Venture outside the city 20 minutes and experience this unique piece of wilderness to see the wood bison, elk and moose.
Find more information on Edmonton.com.
Accommodation in Edmonton
Most of Edmonton's hotels are located in the city centre. Holiday Inn Express, Comfort Inn & Suites, Days Inn, Ramada and Four Points are all scattered across the downtown area. Budget hotels seem to be located in south Edmonton while more luxurious hotels are located in West Edmonton.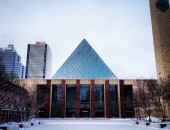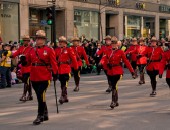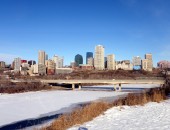 All flight tickets to Edmonton (Canada)
Sorry! We haven't found any flights to Edmonton. Try launching another search above.