Find the cheapest flights to Finland by date
outbound:
18-Jun-2020
direct (2h45m)
Finnair
return:
25-Jun-2020
direct (3h05m)
Finnair
outbound:
18-Jun-2020
1 stop (13h10m)
Air Baltic
return:
25-Jun-2020
1 stop (4h40m)
SAS
Mini guide: Cheap flights to Finland, tourism and travel info
Flights to Finland: practical information
Cheap airlines to Finland
Finland is the jewel of Scandinavia and a treat to visit year-round. Search for cheap flights to Finland and touch down at Helsinki-Vantaa Airport (HEL) onboard Blue1, Finnair, Flybe Nordic and others. Ryanair flights to Tampere and Lappeenranta near the Russian border. From London fly SAS, Finnair or Air Baltic.
When to book flights to Finland
Winter is a cold and dark as the rest of Scandinavia so it's no wonder that summer is the most popular time to book flights and plan a holiday in Finland. July is the warmest month.
Peak season: Summer, especially July.
Low season: October to December is the worst for weather.
Flight duration
Direct flights to Finland take 3 hours from London.
Experience Finland: what to see, what to do
Finland is a country of immense natural beauty. There are 188,000+ lakes and just as many islands. The Northern Lights dance in the northern territories while Santa Claus is resident celebrity in Lapland. Where to start?
Essentials in Finland
Helsinki: The capital and biggest city in Finland, a trip to Helsinki is a must while you're visiting Finland. First stop is Suomenlinna Fortress, then the Seurasaari Open Air Museum. The city's endless museums are top-notch and so is the nightlife.
Lapland: Heading north? Finland's Lapland region is ice cold in winter but in summer enjoys the most incredible Midnight Sun with temperatures in the 30°Cs. Don't miss the chance to visit Santa in Joulupukki and get your requests for Christmas in early.
Lappajärvi Lake: Looking for some place really unique to visit with your Finland car hire? Head to this lake, created by a meteorite that hit the earth more than 73 million years ago. Do you have it in you to cycle all the way around? It's an 80 km ride.
Find more information on Visit Finland.
Accommodations in Finland
Hotels in Finland tend to be more expansive than the rest of Europe but you'll find that rooms are generally cheaper during weekends and in summer. Book your hotel rooms in Finland as early as possible. For cheaper options, there are plenty of hostels in Finnish cities and cottages in the countryside.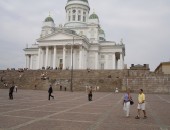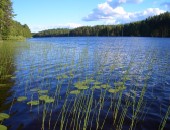 All flight tickets to Finland