When to find the cheapest flights to Florence
Sorry! We haven't found any flights to Florence. Try launching another search above.
Choose your departure month
Florence guide: how to get there, what to see
Distance from Florence city centre
4 mi
43 mi
Flights to Florence: practical information
Cheap airlines to Florence
Thanks to its popularity, it's easy to access Florence via cheap airlines. Both British Airways and Alitalia offer direct flights. British Airways departs from London twice daily. Alitalia flies from London Heathrow to Florence Airport (FLR) seven times daily with a stopover in Rome.
When to book flights to Florence
Summers in Florence are warm and dry, the winters can get quite cold and tend to be wet. Just watch out from March to May though, that's when school trips are popular and the museums are usually packed with children.
Peak season: April to October, also Easter week.
Low season: December and winter when the city tends to be cold and damp.
Flight duration
Direct flights to Florence take a mere 2h.
Experience Florence: what to do, what to see
This city is beautiful. Maybe it's just because it's home to Michelangelo's David, but as soon as you arrive and see the locals dressed in the latest fashions, it's hard to believe that time has passed since Medici was was around. The Tuscan countryside is the perfect backdrop, and easily explored with a Florence rent car, for you next trip.
Essentials in Florence
Duomo: The world's fourth largest cathedral took almost 150 years to build. The interior of it is totally Spartan and most of the churches valuables are now located in the adjacent museum.
Galleria degli Uffizi: This museum is reason enough to come to Florence. It contains the world's finest collection of Renaissance art, more than 1500 works in total and all of them spectacular.
Basilica di Santa Croce: This cathedral is a stunning work of architecture and holds the remains of some very impressive Italians (Michelangelo, Galileo and Machiavelli to name a few). It's the largest Franciscan church in the world and its sixteen chapels are worth visiting alone for their impressive frescoes.
Find more information on firenzeturismo.it.
Accommodations in Florence
Florence has hotels to suit every style and budget. Family-run pensioni are still popular and while the rooms tend to be small, they're an intimate and authentic option when choosing hotels in Florence. You should book your accommodations as far in advance as possible unless you're travelling in winter, things tend to be a lot slower then.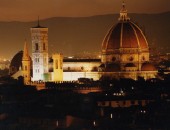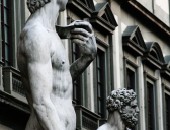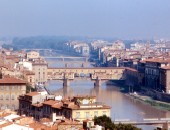 Florence in the Traveller's Magazine
Featured
From Monet's garden in Giverny to the biggest galleries in New York... here are 4 ideas to inspire your next art holiday.
Featured
It's hard not to fall in love with Florence by day... but check out this city by night and she'll have you falling head over heels.
Travel Inspiration
Tourists invest a lot of time photographing pieces of stone and cast bronze. Statues occupy the space in the middle of a grand plaza or square, porticoes in museums; they mark locations where important events took place. Some are grand, others quite modest but only a handful are world famous. As far as the history … Continued
All flight tickets to Florence (Italy)
Sorry! We haven't found any flights to Florence. Try launching another search above.