When to find the cheapest flights to Frankfurt
Sorry! We haven't found any flights to Frankfurt. Try launching another search above.
Choose your departure month
Frankfurt guide: how to get there, what to see
Distance from Frankfurt city centre
8 mi
64 mi
Flights to Frankfurt: practical information
Cheap airlines to Frankfurt
As the business and financial centre of Germany, you can be sure that there are plenty of cheap flights to Frankfurt to accommodate the many business travellers. The city's skyline is something out of a futuristic sci-fi film and Frankfurt Airport (FRA) is huge. Frankfurt/Hahn (HHN) is a regional airport which is mainly used by low cost airlines.
When to book flights to Frankfurt
Since Frankfurt is a business destination, flights are generally cheaper on weekends, the same goes with hotels. Frankfurt is the largest traffic hub in Germany which means that you can find cheap flights practically any time, even last minute. Avoid holidays in Frankfurt during its biggest trade fairs. Hotel prices and flights sky rocket!
Peak season: Spring/summer and during trade shows/festivals.
Low season: Late autumn and winter.
Flight duration
Direct flights to Frankfurt take 1 hour 20 minutes from London.
Experience Frankfurt: what to see, what to do
Frankfurt's population is widely diverse. 35% of the city is immigrants, making it the most international city in Germany. Alongside this, you can be sure to discover a host of arts, museums, theatres and culinary pleasures from all over the world.
Essentials in Frankfurt
Old Town: The old city of Frankfurt is called Römerberg. The Eiserner Steg stretching across the river is the most well-known bridge in the city, built in 1869. Cross it from Römerberg to Sachsenhausen to get great views of the skyline, particularly at night with your Frankfurt car hire.
Museums: It's no use booking flights to Frankfurt if you don't plan to visit any of this city's impressive museums! Everything from German film, architecture, applied arts to communication is covered in the city's museums.
Stadtwald: As for things to do, when the weather is nice everyone heads to the riverside or Stadtwald, the city forest. It's a huge park, the biggest inner-city forest in Germany.
Find more information on Frankfurt Tourism.
Accommodations in Frankfurt
There are plenty of hotels in Frankfurt but they easily book up (at high prices) during major trade fairs where even modest rooms at budget hotels in Frankfurt can jump to over €300/night. If you're staying longer than a couple of nights, consider asking for a discount or corporate rate.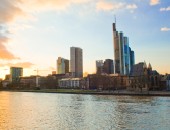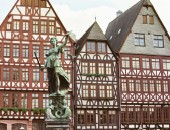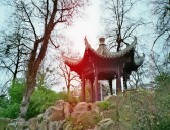 Frankfurt in the Traveller's Magazine
Travel Tips
Airport lounges are not just places to waste away the hours... they are luxurious stopovers for elite travellers. Are you lucky enough to gain access to one of these lounges?
Travel News
Flying First Class comes with a lot of perks: airport lounges, priority boarding, free drinks, better in-flight catering… Have you ever heard of animals flying First Class? They certainly get First Class treatment when stopping over in Frankfurt, thanks to Lufthansa's Animal Lounge. Germany's leading airline company, Lufthansa,  offers our furry friends a relaxing place … Continued
Travel News
Paul Smith, a 33 year old Brit, had a brilliant idea, posted it on Twitter and waited. Within minutes his first responses started pouring in. The idea? Travel the world for free, using Twitter to find free transportation and hotels along the way. It sounds unbelievable, but it actually worked! One winter afternoon in 2009, … Continued
All flight tickets to Frankfurt (Germany)
outbound:
02-Jun-2022
1 stop (27h30m)
Qatar Airways
return:
30-Aug-2022
1 stop (14h35m)
Qatar Airways