When to find the cheapest flights to Galway
Sorry! We haven't found any flights to Galway. Try launching another search above.
Galway guide: how to get there, what to see
| | |
| --- | --- |
| | Galway city centre |
| | Galway Airport (GWY): 5 mi from city centre |
Flights to Galway: practical information
Cheap airlines to Galway
Off to Galway are you? We don't blame you, Galway is vibrant, young with plenty going on. Search for cheap flights to Galway Airport (GWY) with departures from all over the UK including London Luton, Bristol, Newcastle and Edinburgh among others.
When to book flights to Galway
Galway is most popular in summer, when many travel to the coast to spend their days hiking and lapping up the gorgeous Irish countryside. If planning a visit in the warmer months, make sure you book your flights to Galway at least three months in advance.
Peak season: Summer.
Low season: Fall and winter.
Flight duration
Direct flights to Galway take less than 2 hours from London.
Experience Galway: what to see, what to do
Western Ireland is at your doorstep when you enjoy your holidays in Galway. While historical and typical tourist attractions are few, Galway's locals, culture and atmosphere will surely win you over. There's no place like it.
Essentials in Galway
Galway Promenade: The Promenade in Salthill is the best place to enjoy the best of summer's day. When the sun is out, you'll see practically the whole city out here enjoying the weather on rollerblades or jogging, some even diving into the freezing waters of the Atlantic.
Galway Atlantaquaria: This is a must if you're interested in the ocean and its creatures. It doesn't house the usual aquarium collection. It features fish and creatures you'll find just off the local coast.
Shopping at Galway Market: Year round this market is the best place to pick up a souvenir or two while visiting Galway. In Christmas the market is especially popular. Local artisans and hand crafters sell their wares here.
Find more information on Galway Tourism.
Accommodations in Galway
Galway has an astonishing number of inns and B&B's, even by Irish standards. Look for something on College Road or Salthill. If you stay further out from the city centre, consider getting a Galway car hire to make it easier to get around.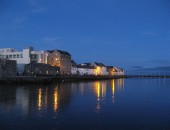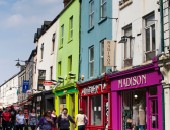 All flight tickets to Galway (Ireland)
Sorry! We haven't found any flights to Galway. Try launching another search above.