Find the cheapest flights to Gambia by date
outbound:
04-Jan-2022
1 stop (10h45m)
Vueling
return:
15-Feb-2022
1 stop (10h10m)
Vueling
Mini guide: Cheap flights to Gambia, tourism and travel info
Flights to Gambia: practical information
Cheap airlines to Gambia
Planning a holiday in Gambia? This small African country is easiest reached with flights to Banjul International Airport (BJL) via charter airlines from England like Monarch Airlines, Thomas Cook Airlines, Transavia and Arkefly.
When to book flights to Gambia
Gambia is tropically hot and the most popular time to visit is during the dry season from November to May. Flights to Gambia are most popular in February when the country celebrates Independence Day on February 18th. Best to avoid booking flights to Gambia in the rainy seasons.
Peak season: February 18th, dry season.
Low season: Rainy season.
Flight duration
Direct flights to Gambia take 6 hours 30 minutes from London.
Experience Gambia: what to see, what to do
Gambia may be the smallest country in Africa but it packs a punch and is a perfect choice for holidays in Western Africa. The country is known for its wildlife reserves, natural parks and forests and cultural cities.
Essentials in Gambia
Abuko Nature Reserve: This stunning nature reserve is open daily and is located just outside the village of Lamin, just a short drive from Banjul with a Gambia car hire. What is there is see? Crocodiles, monkeys and more!
James Island: Trips to this island are largely popular thanks to the film and novel Roots by Alex Haley. Cruise up the Gambia River and buy craft items from the locals.
Sanyang Beach: This is one of the most beautiful beaches in Gambia and is a great place to spend the day or even a few days. Pull up a stool at the nearby Rainbow Beach Bar for a nice cocktail, the nightlife here is superb.
Find more information on Visit Gambia.
Accommodations in Gambia
Luxury hotels are mostly found on the Atlantic Ocean coastline while inland you'll find that Gambia hotels are more modest and basic in facilities and amenities. Eco-camps and secluded lodges are also popular among budget travellers.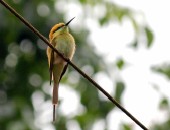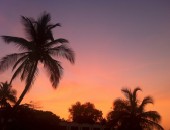 All flight tickets to Gambia
Sorry! We haven't found any flights to Gambia. Try launching another search above.