When to find the cheapest flights to Gerona
outbound:
26-Aug-2022
direct (2h)
Ryanair
return:
02-Sep-2022
1 stop (5h15m)
Volotea
outbound:
08-Jul-2022
direct (2h05m)
Jet2
return:
11-Jul-2022
direct (2h10m)
Ryanair
Choose your departure month
Gerona guide: how to get there, what to see
| | |
| --- | --- |
| | Gerona city centre |
| | Costa Brava Airport (GRO): 7 mi from city centre |
Flights to Gerona: practical information
Cheap airlines to Gerona
This ancient Spanish city is ready for its close up. Are you looking for cheap flights to Gerona? Search for flights to Gerona Airport (GRO), just outside the town centre. The airline is just 60 miles from Barcelona and welcomes flights primarily by low cost airlines including Ryanair, Jat Airways and Thomson Airways.
When to book flights to Gerona
Gerona is a good choice year-round but summers tend to be busiest. In August however you'll find the town quieter than usual, as most locals escape to the seaside on weekends. Book your flights to Gerona at least 3 months in advance for the cheapest fares.
Peak season: Summer.
Low season: Winter when is weather is cooler.
Flight duration
Direct flights to Gerona take 2 hours 20 minutes.
Experience Gerona: what to see, what to do
Gerona is thousands of years old and have plenty of stories to tell but is all too often over-looked by travellers heading to nearby Barcelona. Make a point to spend at least a day in this city and you won't be disappointed.
Essentials in Gerona
Ancient City Walls: A great way to get a good feel for Gerona is to take a walk along the city's ancient walls. They also offer excellent views of the city so don't forget to bring your camera.
Jewish Quarter: The charming old part of town is the Jewish Quarter. The small streets are charming and can get rather lively in the evenings when the bars and cafes fill up. Gerona may be small but it certainly has spirit so enjoy yourself and the lively nightlife.
Figueres: If you have a Gerona car hire don't miss a short trip to Figueres, just 30 minutes away to visit the famous Dali Museum. The scenery is brilliant and the Old Town impressive.
Find more information on Costa Brava Tourism.
Accommodations in Gerona
You won't be disappointed by hotels in Gerona. Despite being small, this city is well equipped to host late-night arrivals on their way to explore the Costa Brava or who are headed to Barcelona. For extra value, book a Gerona hotel that includes breakfast.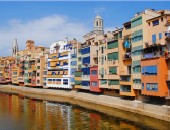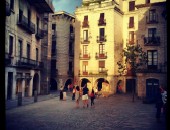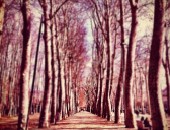 Gerona in the Traveller's Magazine
Travel Inspiration
Barcelona is starting to hop again now that the weather has warmed up. Europe is starting to come alive again after a windy and cold winter and Spain's Catalan capital is no exception. One of the best things about travelling to Barcelona are the endless cheap flights to its neighbouring city of Gerona, can it … Continued
All flight tickets to Gerona (Spain)
outbound:
08-Jul-2022
direct (2h05m)
Jet2
return:
11-Jul-2022
direct (2h10m)
Ryanair