When to find the cheapest flights to Gothenburg
Sorry! We haven't found any flights to Gothenburg. Try launching another search above.
Choose your departure month
Gothenburg: Stockholm's little sister
Distance from Gothenburg city centre
6 mi
12 mi
Flights to Gothenburg: practical information
Cheap airlines to Gothenburg
Bound for Sweden? Touch down in Scandinavia with flights to Gothenburg. Landvetter Airport (GOT) is the city's main airport, welcoming British Airway, Lufthansa, SAS and Norwegian Air flights. If it's cheap flights to Gothenburg you're after, better to search for flights to Gothenburg City Airport (GSE) where Ryanair lands.
When to book flights to Gothenburg
Gothenburg is certainly a city that can be enjoyed year-round but summer is without a doubt the most lively season. City cafes and bars spill out onto the streets, patios and terraces open, it's all good fun. Book your flights 3-4 months before you plan to travel.
Peak season: June to August, Christmas holidays.
Low season: Generally winter, January to March.
Flight duration
Direct flights to Gothenburg take 2 hours from London.
Experience Gothenburg: what to see, what to do
Gothenburg sits right on the beautiful western coast of Sweden, on the river Göta. It's most famous feature? Its friendly locals of course! With 60,000+ students, this city is buzzing day and night during term time, a great time to plan a holiday in Gothenburg.
Essentials in Gothenburg
Skansen Kronan: Crown Keep in English, this 17th century fort sits on top of the hill overlooking the city centre. Nearby you'll find Haga, a historic neighbourhood with pretty wooden houses from the 19th century. A must to visit while in Gothenburg.
Gothenburg Art Museum: If it's a peek into the city's art scene you're after, this museum is a good place to start. It has one of the most remarkable collections of Nordic art. For contemporary art, head next door to the Art Hall which is free to visit.
Slottsskogen: On a sunny day there's no place to be except in this big English garden. Pack a lunch and roll out your picnic blanket. The gardens have over 60 types of Azalea that bloom all summer long. It's quite magical.
Find more information on Gothenburg Tourism.
Accommodations in Gothenburg
Bring primarily a student town, Gothenburg has a host of budget and cheap hotel options. Backpackers hostels abound but you'll be most comfortable in one of the city's chic mid-range hotels. In summer, it's advisable to book your hotels in Gothenburg well-early.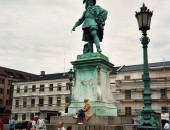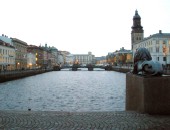 Gothenburg in the Traveller's Magazine
Travel Inspiration
Love seafood and all things Scandinavia? Skip Stockholm and head to Sweden's west coast instead, setting your trip to the pace of the tide. Gothenburg City is arguably one of the best places to get your hands on fresh crab, lobsters and all those tasty crustaceans.  No doubt you should really love seafood to make … Continued
Travel Inspiration
Safety is a huge priority when travelling the world. These countries though, are known to be some of the safest in the world. From Canada to Austria, have you visited any of these places?
All flight tickets to Gothenburg (Sweden)
Sorry! We haven't found any flights to Gothenburg. Try launching another search above.