When to find the cheapest flights to Guernsey
Sorry! We haven't found any flights to Guernsey. Try launching another search above.
Choose your departure month
Guernsey guide: how to get there, what to see
| | |
| --- | --- |
| | Guernsey city centre |
| | Guernsey Airport (GCI): 5 mi from city centre |
Flights to Guernsey: practical information
Cheap airlines to Guernsey
Heading to the Channel Islands? Finding flights to Guernsey is a piece of cake. Guernsey Airport (GCI) welcomes flights from the UK including London, Southampton, Bristol, Manchester, Birmingham, East Midlands and Exeter as well as Europe. For the cheapest Guernsey flights, stick to low cost airlines like Flybe and Aurigny.
When to book flights to Guernsey
Summer is the best time to visit Guernsey's islands but it's also the busiest. St Peter Port more than doubles in population when the warm weather arrives to the English Channel. Holidays in Guernsey have never been so sweet so book your flights to Guernsey well early.
Peak season: June and July.
Low season: Rest of the year, especially winter when tourism is almost non-existent.
Flight duration
Direct flights to Guernsey take just over 1 hour from London.
Experience Guernsey: what to see, what to do
There are only two ways to get around the island, bike or Guernsey car hire. We strongly recommend the second if you plan to tour the entire island and even hop over to other smaller islands from the main one.
Essentials in Guernsey
Castle Cornet: Castle Cornet is a hard landmark to miss when you arrive in St Peter Port, it has been protecting this part of the coastline since the 13th century. Visit the castle museum and don't miss the period gardens inside the castle walls.
Hauteville House: Perhaps one of the most famous sights in Guernsey is Hauteville House where Victor Hugo wrote Les Miserables while he was exiled from France in 1851. The house is still preserved to how it was when he lived there according to photos and drawings from the time.
WWII Guernsey: History buffs will know that Guernsey was the only part of Britain to be occupied by the Germans during World War II. Visit the German Occupation Museum, German Military Underground Hospital and the La Vallette Undergound Military Museum.
Find more information on Visit Guernsey.
Accommodations in Guernsey
Like many of the Channel Islands, Guernsey hotels are rustic and many have a lot of charm. Traditional inns and boutique hotels are the most popular, as are Bed and Breakfasts. You'll find the most selection in and around St Peter Port. As with your flights, make sure you book your Guernsey hotels early if you plan to visit in summer.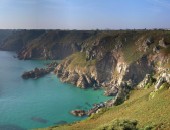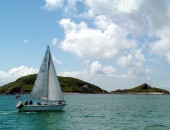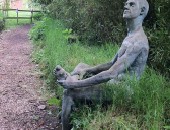 All flight tickets to Guernsey (United Kingdom)
Sorry! We haven't found any flights to Guernsey. Try launching another search above.