When to find the cheapest flights to Hamburg
Sorry! We haven't found any flights to Hamburg. Try launching another search above.
Hamburg guide: how to get there, what to see
Distance from Hamburg city centre
6 mi
6 mi
35 mi
Flights to Hamburg: practical information
Cheap airlines to Hamburg
There are three airports in an around Hamburg. Find flights to Airport Hamburg-Fuhlsbüttel (HAM), Airport Lübeck-Blankensee (LBC) and Hamburg-Finkenwerder Airport (XFW) for cheap with British Airways, Lufthansa or KLM.
When to book flights to Hamburg
Planning a cheap holiday in Hamburg? Consider coming in early summer or fall if you want the cheapest flights. In summer, flights and hotel prices tend to rise due to the city's popularity among backpackers and travellers from around the world.
Peak season: Summer.
Low season: Fall and winter when the cold sets in.
Flight duration
Direct flights to Hamburg take 1 hour 30 minutes from London.
Experience Hamburg: what to see, what to do
Hamburg, Gateway to the World, is without a doubt Germany's most multi-cultural city. It is the country's biggest port (second busiest in Europe). It's an independent state and is proud to be a "Free and Hanseatic City."
Essentials in Hamburg
Mönckebergstraße: This is central Hamburg. Around here you'll find the churches of St. Jacobi and St. Petri, Hubelhaul and shopping along Spitaler Straße.
Hamburg Harbour: Head to Speicherstradt, where the cities oldest warehouses are, many still in use. These house museums today, some are really worth checking out.
Sankt Pauli: If you're looking for more culture and local stuff, this is your place. Reeperbahn is the city's Red Light District. Hop on to the Indra Club and Star Club, where the Beatles once played.
Shopping: Planning to shop? Check out Mönckebergstraße in the city centre. The Europa Passage near Alster Lake is also quite an impressive shopping complex.
Find more information on Hamburg Tourism.
Accommodations in Hamburg
As for hotels in Hamburg, there are many for every type of traveller: youth hostels, budget mid-range hotels and a good number of luxury choices. For something really special, try the Atlantic or the Vier Jahreszeiten, where James Bond stayed in Tomorrow never dies.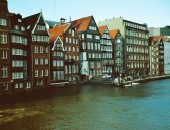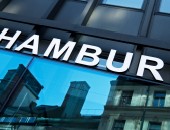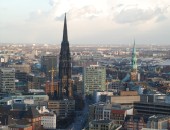 All flight tickets to Hamburg (Germany)
outbound:
16-Aug-2022
direct (1h35m)
Air France
return:
20-Aug-2022
direct (1h45m)
Air France