When to find the cheapest flights to Hanoi
outbound:
09-Feb-2022
2 stops (41h)
Turkish Airlines
return:
23-Feb-2022
1 stop (17h40m)
Turkish Airlines
Choose your departure month
Hanoi: 1,000 years a capital
| | |
| --- | --- |
| | Hanoi city centre |
| | Noi Bai International Airport (HAN): 13 mi from city centre |
Flights to Hanoi: practical information
Cheap airlines to Hanoi
Planning a trip to Hanoi? The capital of Vietnam is a fascinating place, an interesting mix of East, West, history and modernity. Start your trip with cheap flights to Hanoi's main airport, Noi Bai International Airport (HAN) onboard Thai Airways, Vietnam Airlines, KLM and others.
When to book flights to Hanoi
The weather in Hanoi is tropical so visitors can expect wet and hot weather most of the year. Winter can feel especially cold in Hanoi because of the dampness and sudden drops in temperature. Book your flights to Hanoi at least 5-6 months in advance for the best flight fares.
Peak season: Most of the year, spring and fall are quite nice.
Low season: Winter tends to be the slow period.
Flight duration
Flights to Hanoi take around 15 hours with stopovers from London.
Experience Hanoi: what to see, what to do
Hanoi has been a capital city for more than 1,000 years. It has been captured, occupied, resorted and invaded several times and today the Old Quarter stands testament to that. Endless museums, mouth-watering street food and more attract foreigners to this city. Let's go!
Essentials in Hanoi
Temple of Literature: This place was founded in 1070 as the country's first university. The courtyard features stone tablets mounted on tortoise backs. It's a quiet and serene place to spend the afternoon.
Exotic food: Next to Beijing, Hanoi is probably the best city for street food and exotic delicacies. Le Mat, known as "Snake Village" is the best place to go to eat and the specialty? Cobra. Bring your friends and a camera!
Markets: There are some pretty amazing markets in Hanoi. Cho Hom is known for its fabric selections, Dong Xuan is mainly for wholesale purchases but loads to see and the night market in the old quarter for just about everything.
Find more information on Vietnam Tourism.
Accommodations in Hanoi
The Old Quarter is a great place to find budget hotels in Hanoi. Be wary of places located on main streets, the traffic will wake you very early! From backpackers hostels to more up-scale hotels, Hanoi has it all. Book your rooms early and always be wary of offers from hotel touts.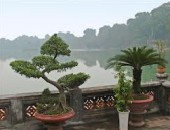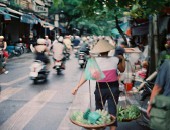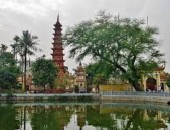 Hanoi in the Traveller's Magazine
Featured
Discover the mystery, subtleties and magic of Vietnam through this director's eyes as he travels across the country.
Travel Inspiration
While south east Asia may, in your mind, be reserved for the most adventurous backpackers, we disagree. Hanoi in particular has a way of blending the chic of old Asia with modern touches that surprise and excite every time. Enjoy the intricacies of Vietnamese culture, here's a guide to help get you started. Typically if … Continued
All flight tickets to Hanoi (Vietnam)
outbound:
23-Jul-2022
1 stop (7h55m)
Singapore Airlines
return:
30-Jul-2022
1 stop (16h30m)
Singapore Airlines